Top 38 Things To Do In Gold Coast With Kids 2023
Looking for the best things to do in Gold Coast with kids? I live in Western Australia but have visited the Gold Coast every year since our twins were three. During this time, I've explored the area extensively and come up with this list of the best things to do with families.
There are plenty of things to do in Gold Coast with kids besides theme parks. Of course, these are fun but there is also much more to the region.
Disclosure: This post may contain affiliate links (of which we use) so we may receive a small amount of commission if you buy something through them, at no extra cost to you. You can read the full disclaimer here.
Things To Do in Gold Coast with Kids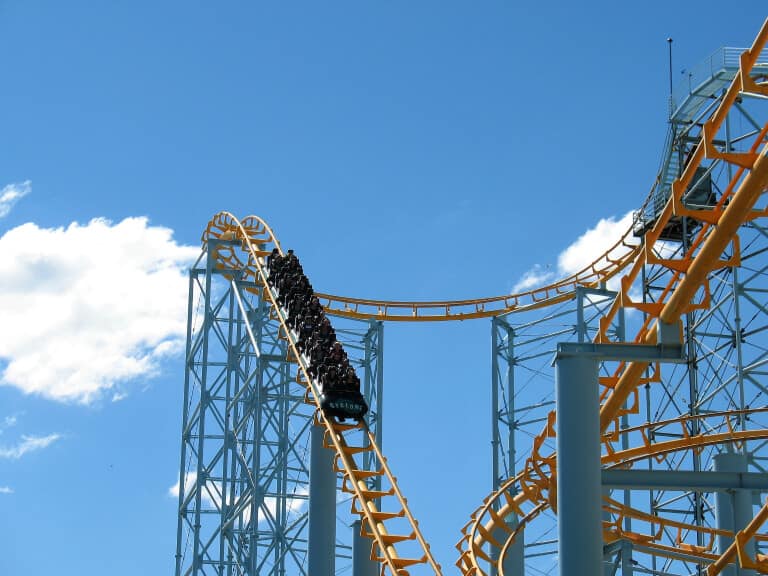 1. Visit Warner Bros. Movie World
⭐️ RATING: 3.5/5 Stars
Visiting Warner Bros. Movie World on the Gold Coast is an exhilarating experience that transports visitors into the captivating world of movies. As soon as you step through the iconic gates, you are immersed in a realm of thrilling rides, dazzling shows, and beloved movie characters.
From heart-stopping roller coasters like Superman Escape to the enchanting streets of Main Street, this theme park offers a perfect blend of adrenaline-pumping adventures and family-friendly entertainment.
As you wander through the meticulously crafted movie sets, you can catch glimpses of your favorite superheroes, cartoon characters, and classic film icons.
2. Explore Sea World
⭐️ RATING: 4/5 Stars
A visit to Sea World Gold Coast is a fun aquatic adventure that captivates visitors of all ages. Located along the stunning shores of the Gold Coast, this marine-themed park offers a variety of marine life encounters and thrilling attractions.
From the awe-inspiring dolphin and seal shows that showcase the intelligence and grace of these magnificent creatures to the immersive exhibits that allow you to get up close with sharks, penguins, and tropical fish, Sea World provides a captivating glimpse into the wonders of the underwater world.
The park also features exhilarating rides, including roller coasters and water slides, making it an ideal destination for thrill-seekers.
Please note this attraction has animals in captivity.
3. Enjoy Thrilling Rides at Dreamworld
⭐️ RATING: 4/5 Stars
A visit to Dreamworld Gold Coast is a thrilling escape into a world of adventure and entertainment. This expansive theme park offers an abundance of exhilarating rides, captivating shows, and interactive experiences for visitors of all ages. From heart-pounding roller coasters like The Gold Coaster to kids ride like the Big Red Boat, there is something for everyone to enjoy.
Dreamworld is also home to Tiger Island, where you can witness the majestic tigers showcasing their natural behaviors in a stunning environment. Additionally, the park boasts a variety of live shows, including the Wiggly Friends Show and wildlife presentations, providing entertainment and education in equal measure.
Please note this attraction has animals in captivity.
4. Interact with Animals at Currumbin Wildlife Sanctuary
⭐️ RATING: 4.5/5 Stars
At Currumbin Wildlife Sanctuary, you can take part in the lorikeet feeding and meet some of Australia's birds. There's also a daily Aboriginal Culture Show plus interactive keeper presentations.

Children will love being able to hold a koala and hand-feed the kangaroos.

Currumbin has a wildlife hospital where they care for sick and injured wildlife. In fact, in 2019 they saw over 12,200 animals, including 600 Koalas admitted into the hospital. What a fabulous job they are doing. As an extra add on, you can take a tour of this incredible facility.

Another extra you can do with the kids is the TreeTop Challenge. There are 80 challenges in total including 11 zipline. You need about 3.5 hours for this Gold Coast attraction.
5. Have Fun at Wet'n'Wild Water Park
⭐️ RATING: 3.5/5 Stars
Visiting Wet'n'Wild water park on the Gold Coast is an exhilarating and unforgettable experience. As soon as you enter the park, you're greeted by a vibrant atmosphere filled with the sounds of laughter and excitement.
The park has a variety of thrilling water slides, including the iconic Tornado and the adrenaline-pumping Blackhole. Whether you're seeking heart-pounding drops or leisurely rides, there's something for everyone.
The lazy river provides a relaxing escape, while the wave pool offers the perfect opportunity to catch some waves. The park's attractions cater to all ages, making it an ideal destination for families and friends.
6. Visit the Australian Outback Spectacular
⭐️ RATING: 4.5/5 Stars
Visiting the Australian Outback Spectacular is an extraordinary journey into the heart of Australia's rugged and captivating Outback. From the moment you step foot into the venue, you are transported to a world of bushmen, cattle drives, and the legendary Australian spirit.
The show combines thrilling horsemanship, breathtaking stunts, and captivating storytelling to showcase the rich heritage and traditions of the Outback. As you enjoy a delicious Outback-inspired meal, you are treated to a sensory spectacle that celebrates the resilience and courage of the people who call this vast land home.
The performers' talent and the production's attention to detail create an unforgettable experience that highlights the beauty and grandeur of the Outback.
7. Explore the World of Illusions at Infinity Attraction
⭐️ RATING: 4/5 Stars
Visiting the World of Illusions at Infinity Attraction in Surfers Paradise is like stepping into a mind-bending realm of wonder and optical illusions. You'll be transported into a mesmerizing world of lights, mirrors, and mind-boggling effects.
As you navigate through the maze-like corridors, you'll encounter mind-bending rooms and interactive displays that challenge your perception and ignite your imagination. The Infinity Attraction takes you on a sensory journey through a series of futuristic landscapes, cosmic environments, and infinite tunnels, creating an immersive experience that defies reality.
From rooms that make you shrink or grow to floors that seem to vanish beneath your feet, every corner holds a surprise.
8. Visit the Gold Coast Beaches
There is 70km of coastline in the Gold Coast so no wonder beaches are one of the main attractions. There are too many to list but some of my favourites are:
Broadbeach is on the northern end of the Gold Coast flanked by luxury high rise apartments. It has a lovely feel with upmarket restaurants and is great for shopping. Pacific Fair Shopping Centre, Jupiter's Casino and the Gold Coast Convention and Exhibition Centre are located here.

Life Savers patrol the white sandy beach which makes it ideal for children. Although it is only 10 minutes from Surfers Paradise, it is has a more laid back vibe.
Main Beach got its name from being the main beach of Southport. It is now a suburb in its own right due to the development of the coast.

It's a popular beach for families as it's less crowded and has a more relaxed feel to it. There's a great range of family restaurants and cafes nearby plus lots of accommodation options.
Surfers Paradise is the most famous beach on the Gold Coast. This makes it the most popular so it can get crowded but it is still a beautiful beach. This one is also patrolled by Surf Life Savers.

It's where to go for nightlife, fast food, and retail therapy. As you would guess, it attracts international tourists and the "young" crowd.
Burleigh Heads Beach is popular with swimmers due to its protected waters. It's also a loved surfing spot due to the surf break around the headlands.

Head there for a barbecue or picnic at the park overlooking the ocean and watch the surfers in action.
Coolangatta is at the bottom end of the Gold Coast and close to the New South Wales border. Two of its protected beaches, Rainbow Bay and Greenmount Beach, are ideal for swimming.

Great surfing spots are the northern corner of Coolangatta Beach, the headland around Greenmount, Snapper Rocks into the southern corner of Rainbow Bay, and Duranbah.
If you don't know how to surf, consider booking a surf lesson. They will have you standing on the board on your first lesson.
Some other beaches to check out are Mermaid Beach, Nobby Beach, and Currumbin.
A word of warning; this coastline can be treacherous and full of rips. Swim only at patrolled beaches, between the red and yellow flags, and read the safety warnings on the beach signs.
See Surf Lesson Pricing Direct Here
⭐️ RATING: 5/5 Stars – Kokomo Cruises
Joining Kokomo Cruises on a Gold Coast Whale Watching Cruise is an exhilarating journey that promises an up-close encounter with majestic humpback whales during their annual migration through the legendary 'Whale Highway.'
Departing from the marina, the cruise quickly reaches the ancient underwater corridor, just 20 minutes away, where these magnificent creatures travel on their epic journey. Witnessing these awe-inspiring beings in their natural habitat is a breathtaking sight. You'll be amazed by their spectacular displays as they breach and play, while mothers tenderly care for their curious calves.
Prepare to be humbled as the gentle giants curiously approach the vessel, offering an intimate experience like no other. In addition to the whales, you may also encounter other wildlife, like dolphins, sea turtles, fish, and sea birds.
Kokomo Cruises ensures a personalised and intimate experience with limited seats on board, with knowledgeable guides sharing fascinating insights about the whales' role in the ecosystem.
10. Picnic at Broadwater Parklands
⭐️ RATING: 4.5/5 Stars
Broadwater Parklands is a world-class community park that offers a vast expanse of grass, perfect for family picnics and activities. At the heart of the park lies the iconic Great Lawn, serving as a hub for some of Gold Coast's most beloved events, including the Gold Coast Marathon and Mayor's Christmas Carols.
The Peninsula Playground within the park is a haven for children and families alike, with a variety of interactive play equipment spread over four levels. Kids can explore a thrilling spiral tower equipped with glockenspiels, binoculars, telescopes, suspended nets, rope tunnels, and an enclosed slide, ensuring hours of laughter and exploration. Additionally, a water and sand play area awaits, featuring intricately carved sandstone, bronze sea animals, water pumps, mini weirs, and water gates to engage and delight little adventurers.
This incredible park also has an adventure play zone for younger children, a water playground, flying fox, a tandem pedal ride on the monorail and a giant inflatable bouncy pillow.
See a copy of the Broadwater Parklands map for all activities.
⭐️ RATING: 4/5 Stars
Step into a world of wonder and prepare to be mesmerised as you navigate through 12 captivating galleries, showcasing over 300 mind-boggling exhibits spread across two floors of endless fun.
Robert Ripley's extraordinary collection of the unusual and the extraordinary awaits you, bringing to life the notion that truth is indeed stranger than fiction. With something for everyone, the Odditorium promises an unforgettable experience for the whole family.
Engage in interactive games and activities, where both young and old can be amazed, astounded, and thoroughly entertained. Little ones will have a blast in the specially designed kids crawl, making this a delightful and immersive adventure that will leave you questioning what you thought you knew about the world around you.
12. Explore the Rainforest at Springbrook National Park
⭐️ RATING: 4.5/5 Stars
Less than an hour's drive from Surfers Paradise and you will be amongst the natural beauty of Springbrook National Park. It's known for its lush rainforest, spectacular waterfalls, and stunning views.
It forms part of the Gondwana Rainforests of Australia World Heritage Area. Many of the Heritage area's 1700 species of flowering plants and ancient trees are here. These include the living relics of the Jurassic age around 180 million years ago; hoop pines.
If you love waterfalls, like me, take the Twin Falls Circuit. It's a 4km return walk which will take around 2 hours to complete. Another beautiful hike is the Purling Brook Falls which you access via a suspension bridge over the creek. This one is also a 4km return trail.
The most popular trail is to the Natural Bridge which only takes about an hour (see photo). You may get the chance to see glow worms here, especially from December to March. It's a child-friendly walk although not suitable for prams.
There are plenty of animals to keep an eye out for including frogs, snakes, and Albert's Lyrebird, a pheasant-sized songbird. There are only about 3500 left in the wild and here is the only place you may see one.
Have a look at the Springbrook National Park map and the Walking Track map.
3. Visit the SkyPoint Observation Deck
⭐️ RATING: 4.5/5 Stars
The Q1 building, in Surfers Paradise, is one of the world's tallest residential buildings at 322.5m high.

The SkyPoint Observation Deck is on the 77th floor and provides incredible views of the coast, city, and mountains. It has one of Australia's fastest elevators taking you from ground to Level 77 (230m above sea level) in 42.7 seconds.

If your children meet the minimum height requirement of 130cms and are over 12, then you can do Australia's highest external building climb. SkyPoint Climb takes you from the observation deck up the massive spire. There is an internal handrail to guide you or you can walk along the edge of the stairs. Are you game enough to look down the 270m sheer drop?
14. Take a Scenic Drive Through the Gold Coast Hinterland
The Gold Coast's stunning hinterland is only a 45-minute drive from Surfers Paradise. This mountain is much cooler than the city and offers lush green views.

There's plenty to do up here with children. The Rainforest Skywalk is a great way to explore the rainforest canopy. The 1.5 km walk is a combination of forest floor trails and bridges above the creek and rainforest. Allow 45 minutes.

The Mount Tamborine Glow Worm Caves is a purpose-built cave with thousands of glow worms. This is a good opportunity to see glow worms during the day. The 30-minute tour allows you to see the glow worms up close as well as learn about their life cycle and behaviour.

If you don't go to Currumbin Wildlife Sanctuary, you have the chance to do a TreeTop Challenge at Thunderbird Park. With over 140 elements, including 14 zip lines, you will need to allow between 3 to 4 hours to complete it. What a fun way to explore 12 acres of world heritage nature.

Cedar Creek Falls are a must when visiting the Gold Coast Hinterland. The Lookout is a 500m return walk along bitumen and is suitable for strollers. Allow 20 minutes return for this walk.

The Cedar Creek Rock Pools are a 900m return walk from the lookout. The track takes in all the natural beauty including waterfalls and rock pools. You can swim in the rock pools if you can brave the cold water.

It's a popular picnic spot for families and can get very busy. The car park often gets full so you may have to walk a bit further, especially during school holidays.
15. Walk Through the Rainforest at Lamington National Park
⭐️ RATING: 4.7/5 Stars
Another spectacular National Park within an hour's drive of the Gold Coast. Walk through lush rainforests and be in awe of the ancient trees. Lamington National Park has extensive walking tracks which makes this Gondwana Rainforest of Australia World Heritage Area an outstanding place to visit.
The Tree Top Walk is an iconic part of O'Reilly's Rainforest Retreat, just outside the guesthouse. It consists of 9 suspension bridges 15 metres above the ground and is completely free of charge. This has to be one of the best free things to do in Gold Coast with kids.
16. Take a Jellurgal Walkabout Tour
⭐️ RATING: 4.6/5 Stars
The local Aboriginal community owns and operates Jellurgal Aboriginal Cultural Centre.
Here you learn about the Aboriginal cultural history of the Gold Coast.The Jellurgal Walkabout Tour starts with a presentation in the Dreaming Amphitheatre, followed by an Ochre Ceremony.
You are then taken around the "Dreaming Mountain", Jellurgal. These sites have played an important role in the lives of Aboriginal people. Meet a traditional landowner and discover facts about the Yugambeh people, including bush tucker, fishing, and hunting.
17. Explore the Rockpools at Currumbin
⭐️ RATING: 4.8/5 Stars
Currumbin Rock Pools are a 15-minute drive from Currumbin Beach. The drive is beautiful. Currumbin Creek Road follows the creek inland through the lovely Currumbin Valley.
It's a popular spot for locals who want to get away from the crowds. Pack a picnic as there's a nice grassed area beside the creek along with barbecues. You'll also find toilets and a cafe across the road.
18. Play a Game at Putt Putt Golf Mermaid Beach
⭐️ RATING: 4.6/5 Stars
Have some fun at Mermaid Beach Putt Putt. It has three themed 18 hole Mini Golf Courses, a video arcade, refreshments, and a barbecue area.
⭐️ RATING: 4.6/5 Stars
This three and a half hour cruise along the Tweed River to the rainforest offers kids thh chance to see wildlife including birds of prey. During the trip, they will also learn about Indigenous history and the river's wetlands and wildlife.
20. Playground Fun
We would always include playgrounds in our daily itinerary when our girls were younger. It is such a great way to break up the day and let them burn off excess energy.
There are lots of playgrounds to choose from in Gold Coast but Broadwater Parklands has to be the best. It's located opposite Australia Fair on the Broadwater side of Marine Parade, Southport. As there is plenty of shade, it's an ideal place for a picnic. There are also free barbecues for use.
This free, marine-themed water playground has water fountains and tidal rockpools for children to play. Lifeguards man it during opening hours.
There's also a Bouncing Pillow open as follows:
1 December to 31 January: 7am to 7pm
1 February to 31 March: 7am to 6pm
1 April to 30 August: 7am to 5pm
1 September to 30 November: 7am to 6pm
Another bonus is the free, fast wi-fi which is available 24 hours a day, seven days a week.
Some other playgrounds worth mentioning are Laguna Park Palm Beach, Washington Waters Southport, Pratten Park Broadbeach, Ed Hardy Park Miami, and Pacific Pines Central Park.
21. Paddle at Tallebudgera Creek
⭐️ RATING: 4.7/5 Stars
Between Burleigh Heads and Palm Beach, you'll find Tallebudgera Creek. The creek has calm, clear waters, making it an excellent spot for children to paddle and swim safely. Families can enjoy the golden sands of the creek's beach, ideal for sandcastle-building contests.
For the more adventurous, the area offers stand-up paddleboarding and kayaking, where you might even spot some of the creek's fish. Tallebudgera Creek also has excellent facilities, including barbecues and picnic areas.
22. Take a Leap with Gold Coast Skydive
⭐️ RATING: 4.9/5 Stars
Older kids and teens can experience the ultimate thrill with a tandem skydive, offering incredible coastal views as they freefall. Skydive with highly qualified instructors up to 12,000 ft landing on Kirra Beach.
23. Enjoy a Duck Tour
⭐️ RATING: 4.7/5 Stars
See the sights of Gold Coast on land and water in an amphibious vehicle, offering a unique perspective on the city.
The city tour starts in Surfers Paradise on Cavill Avenue. Then head out along Surfers Paradise beach towards Main Beach to the Broadwater. That's where the Aquaduck splashes into the water for a cruise of the river.
Aquaduck is Australia's original amphibious tour with over 2.2 million happy customers.
See Prices & Availability Direct Here
24. Go on a Gold Coast River Cruise
Enjoy the city from the water with a leisurely river cruise, often including lunch and informative commentary.
See below for a range of Gold Coast Cruises to book direct with.
25. Tackle the Treetop Challenge at Mount Tamborine
⭐️ RATING: 4.8/5 Stars
For the adventurous family, tackle high ropes courses among the stunning scenery of Mount Tamborine. Experience 5 Levels of Difficulty, across 8 courses with 120 challenging games and obstacles.
26. Wander Through the Botanic Gardens
⭐️ RATING: 4.6/5 Stars
Visit the Gold Coast Regional Botanic Gardens for a peaceful day among the native flora and fauna, complete with a children's playground. There's also a off-leash dog area and coffee shop.
A 10-minute drive from Surfers Paradise.
27. Try Go-Karting at Slideways Go Karting
⭐️ RATING: 4.6/5 Stars
Get the adrenaline pumping with indoor or outdoor go-karting tracks for a fast-paced family outing. The indoor and outdoor track is 450m in length over three levels!
15 minutes from Surfers Paradise.
28. Visit Paradise Country Farm
⭐️ RATING: 3.9/5 Stars
Experience Aussie farm life with animal encounters, shows, and farm activities that are fun and educational. You'll get to feed a kangaroo, stroke a koala and see sheep herding.
29. Take a Jet Boat Ride with Paradise Jet Boating
⭐️ RATING: 4.9/5 Stars
Thrill the family with a high-speed jet boat ride through the Gold Coast waterways, combining sightseeing with excitement.
Australia's only jet boat tour to be certified by ECO Australia & T-QUAL – recognising commitment to ECO sustainability, customer safety, quality experience and great service. Don't miss out on this fun!
30. Explore the world of honey at Superbee Honeyworld
⭐️ RATING: 4.4/5 Stars
If you like honey, visit Superbee Honeyworld to browse an extensive selection of delicious honey products. You can also learn about bees and taste different types of honey at this educational attraction.
31. Go on a Picnic at Macintosh Island Park, Main Beach
⭐️ RATING: 4.6/5 Stars
Pack a lunch and relax in the green space of Macintosh Island Park, with plenty of room for kids to run around. Kids will love the playgrounds and streams throughout the park.
32. Take a Hot Air Balloon Ride
⭐️ RATING: 5/5 Stars
Experience the magic of a sunrise hot air balloon flight over the Gold Coast hinterland. Children must be at least three years old.
Go Ballooning has an accessible basket – no need to climb over the basket to enter.
33. Take to the Skies on a Parasail Adventure
⭐️ RATING: 4.7/5 Stars
Soar high above the Gold Coast's sparkling waters with a tandem or triple parasailing experience with GC Jet Boat & Parasail. It's an exhilarating way for families with older children to view the coastline from an unforgettable vantage point.
Combining the thrill of a jet boat ride with the serene ascent of parasailing, this adventure is a perfect mix of excitement and sightseeing.
34. Hire a Jet Ski
⭐️ RATING: 4.9/5 Stars
Gold Coast Jet Ski Safaris offer various packages from 30 minutes to two and a half hours.
The minimum age to participate is 7 years old or 125cm. The minimum age to drive a jet ski is 12 years old with an adult accompanying them on the back. 16 years can drive solo, but an adult or guardian must be present to sign the waiver before safari commences.
35. Fun at Gold Coast Aqua Park
⭐️ RATING: 4.9/5 Stars
Gold Coast Aqua Park is a splashing good time for families, with inflatable obstacle courses on the water. Located in Southport, this aquatic playground provides hours of fun for kids and adults. Slides, bouncers, and swings guarantee a day filled with laughter.
36. Dinner at Miami Marketta
⭐️ RATING: 4.6/5 Stars
Miami Marketta brings vibrant street food culture to the Gold Coast. This creative venue plays host to a bustling atmosphere where families can enjoy a variety of international cuisines, live music, and the local art scene.
37. Immerse Yourselves in Art
⭐️ RATING: 4.9/5 Stars
Become part of the art in Queensland's first 'trick art' gallery with hand painted, hyper-realistic life-size murals. Interact with a wide variety of 'larger than life' art pieces which are spread out over 8 themed zones.
38. Watch Movies Under the Stars
Gold Coast's Movies Under the Stars is a wonderful outdoor cinema experience perfect for the whole family. With a selection of films that cater to all ages, it's a chance to enjoy the balmy evenings with a picnic and your favourite movie.
Free to attend and set in various locations across the Gold Coast. Bring a blanket, some snacks, and settle in for a magical movie night.
Things I Would Not Do on The Gold Coast
David Fleay Wildlife Park
⭐️ RATING: 4.9/5 Stars
This heritage-listed wildlife park receives mixed reviews. Some people state that there aren't many animals to see. Others have enjoyed seeing the koala and platypus.
As I'm not a fan of animals in captivity, I decided to give this attraction a miss.
Visit the Gold Coast Wax Museum
⭐️ RATING: 3.8/5 Stars
This may just be me, but I don't see the point in wax musuems. Our daughters wouldn't have been interested in seeing wax models of famous people when they were younger. It's expensive for what it is.
Visit the Gold Coast Butterflies
⭐️ RATING: 3.8/5 Stars
This Gold Coast attraction has moxed reviews. We haven't been here, but I would only visit this butterfly house if our children were fascinated by them.
Gold Coast Tours
For more things to do in Queensland, check out this Queensland Travel Guide.