Top 11 Things To Do In Gold Coast With Kids
There are plenty of things to do in Gold Coast with kids besides theme parks. Of course, these are fun but there is also much more to the region.
Gold Coast is a popular holiday destination, receiving 12.6 million visitors in 2018.
Disclosure: This post may contain affiliate links (of which we use) so we may receive a small amount of commission if you buy something through them, at no extra cost to you. You can read the full disclaimer here.
Where is the Gold Coast?
Gold Coast is 66 km south of Brisbane in the state of Queensland. It lies immediately north of the New South Wales border, making it a great finish point for a Sydney road trip.
International visitors will land at Brisbane airport. If you're not renting a vehicle, there's a shuttle that runs from the airport to hotels in the Gold Coast.
Gold Coast Weather
The GC is blessed with about 300 days of sunshine per year with February being the wettest month.
During Summer (Dec-Feb) humidity is high and tropical storms are common in the late afternoon. Temperatures range around 21 – 28.4°C.
Autumn (Mar-May) is a bit cooler; temperatures average between 18 – 25.7°C but the ocean is still warm enough to swim.
You can expect clear skies in Winter (Jun-Aug) with averages between 12.5 – 21.5°C.
Spring (Sep-Nov) is sunny ranging between 16.9 & 25.4°C. September can be a bit windy though.
The Top 11 Things To Do in Gold Coast with Kids
Visit the Theme Parks
Most people heading to the Gold Coast will want to go to at least one theme park. If this interests you, click below to read my article on what theme parks to choose.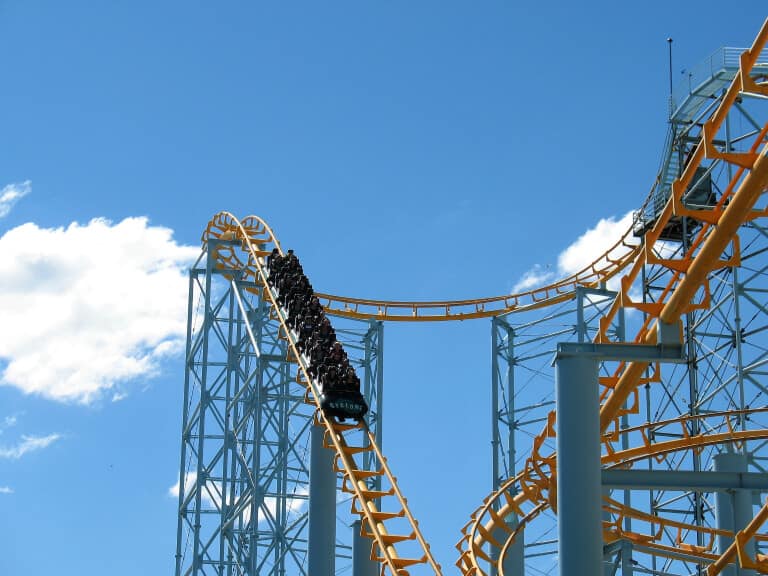 Gold Coast Beaches
There is 70km of coastline in the Gold Coast so no wonder beaches are one of the main attractions. There are too many to list but some of my favourites are:
Broadbeach is on the northern end of the Gold Coast flanked by luxury high rise apartments. It has a lovely feel with upmarket restaurants and is great for shopping. Pacific Fair Shopping Centre, Jupiter's Casino and the Gold Coast Convention and Exhibition Centre are located here.
Life Savers patrol the white sandy beach which makes it ideal for children. Although it is only 10 minutes from Surfers Paradise, it is has a more laid back vibe.
Main Beach got its name from being the main beach of Southport. It is now a suburb in its own right due to the development of the coast.
It's a popular beach for families as it's less crowded and has a more relaxed feel to it. There's a great range of family restaurants and cafes nearby plus lots of accommodation options.
Surfers Paradise is the most famous beach on the Gold Coast. This makes it the most popular so it can get crowded but it is still a beautiful beach. This one is also patrolled by Surf Life Savers.
It's where to go for nightlife, fast food, and retail therapy. As you would guess, it attracts international tourists and the "young" crowd.
Burleigh Heads Beach is popular with swimmers due to its protected waters. It's also a loved surfing spot due to the surf break around the headlands.
Head there for a barbecue or picnic at the park overlooking the ocean and watch the surfers in action.
Coolangatta is at the bottom end of the Gold Coast and close to the New South Wales border. Two of its protected beaches, Rainbow Bay and Greenmount Beach, are ideal for swimming.
Great surfing spots are the northern corner of Coolangatta Beach, the headland around Greenmount, Snapper Rocks into the southern corner of Rainbow Bay, and Duranbah.
If you don't know how to surf, consider booking a surf lesson. They will have you standing on the board on your first lesson.
Some other beaches to check out are Mermaid Beach, Nobby Beach, and Currumbin.
A word of warning; this coastline can be treacherous and full of rips. Swim only at patrolled beaches, between the red and yellow flags, and read the safety warnings on the beach signs.
Springbrook National Park
Less than an hour's drive from Surfers Paradise and you will be amongst the natural beauty of Springbrook National Park. It's known for its lush rainforest, spectacular waterfalls, and stunning views.
It forms part of the Gondwana Rainforests of Australia World Heritage Area. Many of the Heritage area's 1700 species of flowering plants and ancient trees are here. These include the living relics of the Jurassic age around 180 million years ago; hoop pines.
If you love waterfalls, like me, take the Twin Falls Circuit. It's a 4km return walk which will take around 2 hours to complete.
Another beautiful hike is the Purling Brook Falls which you access via a suspension bridge over the creek. This one is also a 4km return trail.
The most popular trail is to the Natural Bridge which only takes about an hour (see photo). You may get the chance to see glow worms here, especially from December to March. It's a child-friendly walk although not suitable for prams.
There are plenty of animals to keep an eye out for including frogs, snakes, and Albert's Lyrebird, a pheasant-sized songbird. There are only about 3500 left in the wild and here is the only place you may see one.
Have a look at the Springbrook National Park map and the Walking Track map.
Skypoint – Q1
The Q1 building, in Surfers Paradise, is one of the world's tallest residential buildings at 322.5m high.

The SkyPoint Observation Deck is on the 77th floor and provides incredible views of the coast, city, and mountains. It has one of Australia's fastest elevators taking you from ground to Level 77 (230m above sea level) in 42.7 seconds.

If your children meet the minimum height requirement of 130cms and are over 12, then you can do Australia's highest external building climb. SkyPoint Climb takes you from the observation deck up the massive spire. There is an internal handrail to guide you or you can walk along the edge of the stairs. Are you game enough to look down the 270m sheer drop?
Currumbin Wildlife Sanctuary
At Currumbin Wildlife Sanctuary, you can take part in the lorikeet feeding and meet some of Australia's birds. There's also a daily Aboriginal Culture Show plus interactive keeper presentations.

Children will love being able to hold a koala and hand-feed the kangaroos.

Currumbin has a wildlife hospital where they care for sick and injured wildlife. In fact, in 2019 they saw over 12,200 animals, including 600 Koalas admitted into the hospital. What a fabulous job they are doing. As an extra add on, you can take a tour of this incredible facility.

Another extra you can do with the kids is the TreeTop Challenge. There are 80 challenges in total including 11 zipline. You need about 3.5 hours for this Gold Coast attraction.
Mount Tamborine
The Gold Coast's stunning hinterland is only a 45-minute drive from Surfers Paradise. This mountain is much cooler than the city and offers lush green views.

There's plenty to do up here with children. The Rainforest Skywalk is a great way to explore the rainforest canopy. The 1.5 km walk is a combination of forest floor trails and bridges above the creek and rainforest. Allow 45 minutes.

The Mount Tamborine Glow Worm Caves is a purpose-built cave with thousands of glow worms. This is a good opportunity to see glow worms during the day. The 30-minute tour allows you to see the glow worms up close as well as learn about their life cycle and behaviour.

If you don't go to Currumbin Wildlife Sanctuary, you have the chance to do a TreeTop Challenge at Thunderbird Park. With over 140 elements, including 14 zip lines, you will need to allow between 3 to 4 hours to complete it. What a fun way to explore 12 acres of world heritage nature.

Cedar Creek Falls are a must when visiting the Gold Coast Hinterland. The Lookout is a 500m return walk along bitumen and is suitable for strollers. Allow 20 minutes return for this walk.

The Cedar Creek Rock Pools are a 900m return walk from the lookout. The track takes in all the natural beauty including waterfalls and rock pools. You can swim in the rock pools if you can brave the cold water.

It's a popular picnic spot for families and can get very busy. The car park often gets full so you may have to walk a bit further, especially during school holidays.
Lamington National Park
Another spectacular National Park within an hour's drive of the Gold Coast. Walk through lush rainforests and be in awe of the ancient trees. Lamington National Park has extensive walking tracks which makes this Gondwana Rainforest of Australia World Heritage Area an outstanding place to visit.
The Tree Top Walk is an iconic part of O'Reilly's Rainforest Retreat, just outside the guesthouse. It consists of 9 suspension bridges 15 metres above the ground and is completely free of charge. This has to be one of the best free things to do in Gold Coast with kids.
Jellurgal Walkabout Tour
The local Aboriginal community owns and operates Jellurgal Aboriginal Cultural Centre.
Here you learn about the Aboriginal cultural history of the Gold Coast.
The Jellurgal Walkabout Tour starts with a presentation in the Dreaming Amphitheatre, followed by an Ochre Ceremony.
You are then taken around the "Dreaming Mountain", Jellurgal. These sites have played an important role in the lives of Aboriginal people.
Meet a traditional landowner and discover facts about the Yugambeh people, including bush tucker, fishing, and hunting.
Currumbin Rock Pools
Currumbin Rock Pools are a 15-minute drive from Currumbin Beach. The drive is beautiful. Currumbin Creek Road follows the creek inland through the lovely Currumbin Valley.
It's a popular spot for locals who want to get away from the crowds.
Pack a picnic as there's a nice grassed area beside the creek along with barbecues. You'll also find toilets and a cafe across the road.
Mermaid Beach Putt Putt
Have some fun at Mermaid Beach Putt Putt. It has three themed 18 hole Mini Golf Courses, a video arcade, refreshments, and a barbecue area.
Playgrounds
We would always include playgrounds in our daily itinerary when our girls were younger. It is such a great way to break up the day and let them burn off excess energy.
There are lots of playgrounds to choose from in Gold Coast but Broadwater Parklands has to be the best.
It's located opposite Australia Fair on the Broadwater side of Marine Parade, Southport.
As there is plenty of shade, it's an ideal place for a picnic. There are also free barbecues for use.
This free, marine-themed water playground has water fountains and tidal rockpools for children to play. Lifeguards man it during opening hours.
There's also a Bouncing Pillow open as follows:
1 December to 31 January: 7am to 7pm
1 February to 31 March: 7am to 6pm
1 April to 30 August: 7am to 5pm
1 September to 30 November: 7am to 6pm
Another bonus is the free, fast wi-fi which is available 24 hours a day, seven days a week.
Some other playgrounds worth mentioning are Laguna Park Palm Beach, Washington Waters Southport, Pratten Park Broadbeach, Ed Hardy Park Miami, and Pacific Pines Central Park.
Gold Coast Accommodation
There is so much choice when it comes to accommodation in Gold Coast. We have stayed twice in Broadbeach; at Oceana on Broadbeach and Meriton Suites Broadbeach. They are highly rated and perfect for families. Both have full kitchen and laundry facilities, a pool, and separate bedrooms. Meriton is closer to the center of Broadbeach but Oceania is closer to Surfers. You can walk to Broadbeach & Surfers from Oceania (which we did a few times). Meriton is around $50 more expensive per night.
We have also stayed at Beachside Tower in Main Beach. This was more family-friendly and laid back than Broadbeach. The restaurants close by were also better value. We walked along the beach into Surfers Paradise from here.
Gold Coast Tours
A Brief History of The Gold Coast
I acknowledge the Traditional Custodians of the land on which I work and live and recognise their continuing connection to land, water, and community. I pay respect to Elders past, present, and emerging.
The Gold Coast is the ancestral home of a few Indigenous clans of the Yugambeh people.
Lieutenant James Cook was the first European to document the region in 1770. However, it wasn't settled by Europeans until 1823. An explorer, John Oxley, landed at Mermaid Beach and named it after seeing a vessel named Mermaid.
The area attracted people in the mid 19th Century due to the hinterland's red cedar supply. Small townships formed along the coast and in the hinterland.
Southport, or Nerang Heads as it was known, became a reputed holiday destination for the rich residents of Brisbane. When Surfers Paradise Hotel was built in the 1920s, the region grew rapidly.
The original name was South Coast, being south of Brisbane. It gained the nickname of Gold Coast around 1950 due to the inflated cost of real estate and services in the area. As tourism grew, many businesses added "Gold Coast" to their names. The region was officially renamed in 1958.
Since the 1980s, it has developed into a leading tourist destination. Gold Coast is now the 6th largest city in Australia making it the largest non-capital city.
Popular Posts
Things to do in Airlie Beach for Families
Airlie Beach is the best place to base yourselves when travelling to the Whitsundays with children. It is much cheaper to stay there than on the islands, and there are more kids activities to keep them occupied. This guide on things to do in Airlie Beach for families provides plenty of ideas to keep your children entertained.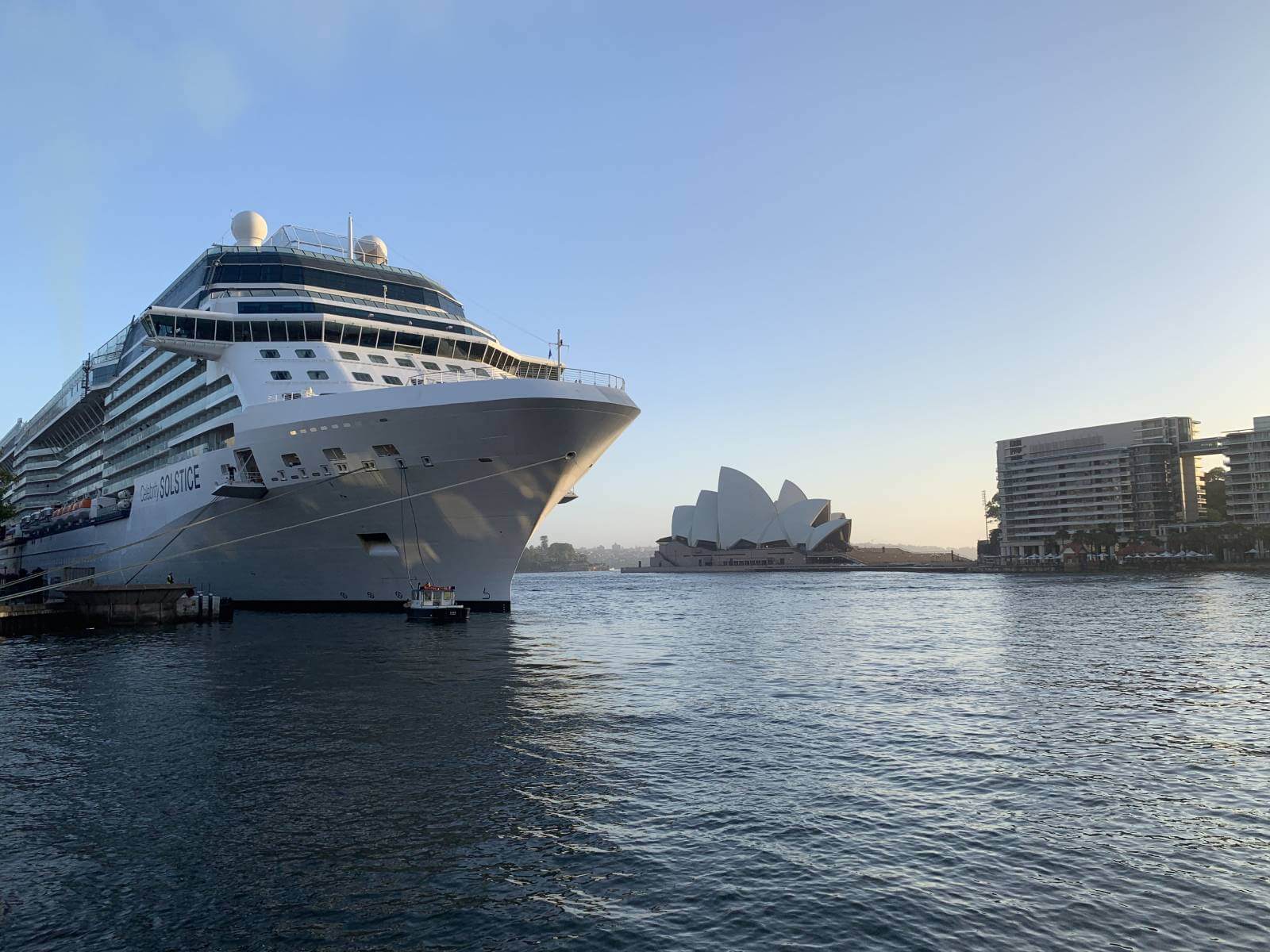 The Best Travel Guide to Australia
A detailed and informative Australia Travel Guide, including health tips, safety, visas, the best places to visit, and when to go. Don't plan your trip without reading this first.

For more things to do in Queensland, check out this Queensland Travel Guide.
If you found our Things To Do in Gold Coast with kids guide helpful, please consider booking through one of our links. It won't cost you anything, but will help towards the cost of running this site. Thank you.