What To Do On Magnetic Island For a Day
Magnetic Island is a beautiful, laid back tropical island off the coast of Queensland, Australia. There are plenty of reasons to visit Magnetic Island, including having Northern Australia's largest koala colony.
Our family took a day trip to Magnetic Island as part of our Airlie Beach to Cairns road trip. Here is our travel guide to the best things to do on Magnetic Island in 1 day.
Disclosure: This post may contain affiliate links (of which we use) so we may receive a small amount of commission if you buy something through them, at no extra cost to you. You can read the full disclaimer here.
Things to do on Magnetic Island
Rocky Bay Lookout
The views from this lookout down onto Rocky Bay is believed to be one of the best views on Magnetic Island. I'd say that's pretty accurate.
A track leads down to the beach, although we didn't go down due to high tide. This beach is best visited at low tide when there is more sand.
Picnic Bay
Picnic Bay was our second stop of the day. It used to be the main centre of Maggie Island (as the locals call Magnetic Island) when the ferries docked at this historic jetty.
Now the jetty is a good place to fish or to spot a stingray as we did. Turtles have also been seen here, so keep a look out.
The Surf Life Saving Club patrols Picnic Bay beach on weekends and public holidays.
Swim in the enclosure at high tide, or snorkel over the reef flats, if safe to do so.
Have something to eat at the open-air Picnic Bay Mall, dubbed "Little Italy" due to the number of Italian restaurants and cafes.
If you enjoy golf, the Magnetic Island Country Club golf course is close to Picnic Bay. This course offers spectacular views and wildlife, including koalas, wallabies and birds.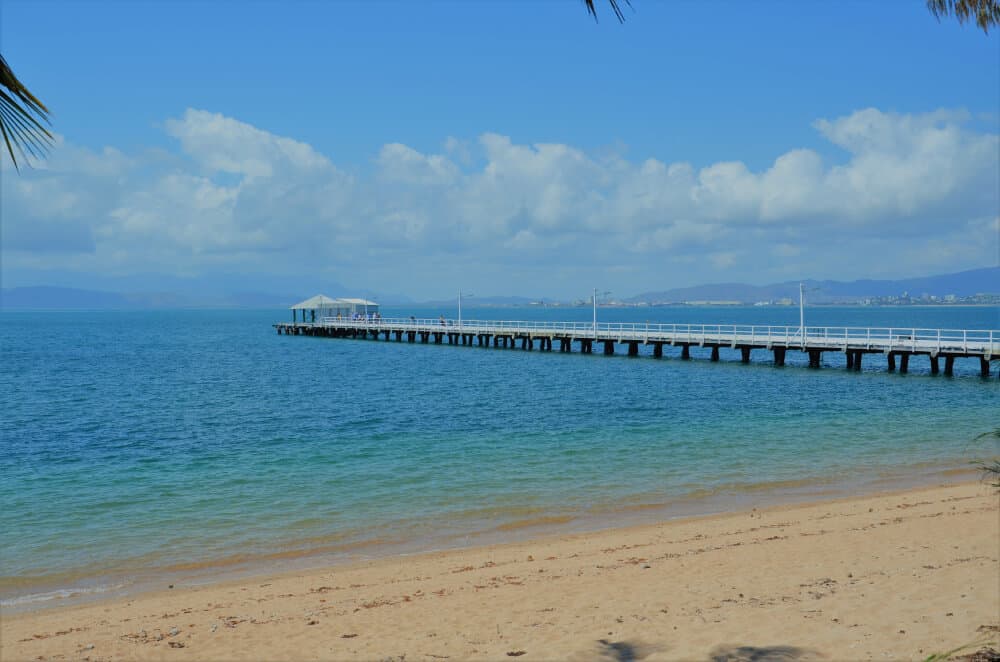 Magnetic Island Walks
There are several walking trails on Magnetic Island, ranging from 200m to 16 km. You can find a great resource on the trails on the Parks and Forests site.
The most popular walk on Magnetic Island is the Forts Walk. This 4 km return moderate hike will take approximately 1.5 hours to complete. Not only do you get amazing views, but it's the best place on the island to see koalas in the wild.
With an estimated 800 koalas living on Magnetic Island, it has the most koalas in northern Australia. Your best chance of seeing them is early morning or late afternoon. Look up into the gum trees, they can be hard to spot but are slow-moving.
The last part of the trail is steep and rocky but has panoramic views over the island. Here you can also see historic WWII fortifications and infrastructures.
Horseshoe Bay
Horseshoe Bay is where to find all the water activities and is the most popular Magnetic Island beach.
Two granite outcrops protect the bay, making it ideal for swimming, especially within the enclosure. This beautiful beach is a popular choice for snorkelling and diving.
A grass area is a perfect place for a picnic, with trees providing shade. Or do what we did and pop across the road for some lunch and a beer. If you're here in the evening, it's one of the best places to watch the sunset.
Radical Bay
4wds are only able to access Radical Bay Road although I've read that it is hard to navigate even with one. Therefore, the best way to get to Radical Bay is to walk.
From Horseshoe Bay, it's a 1.5 km hike through the eucalypt forest. The trail is steep in parts and relatively small.
Alternatively, it can be done as part of The Five Bays Walk (see below).
There aren't any facilities at Radical Bay, but you may have the beach to yourselves.
The Five Bays Walk (Arthur, Florence, Radical, Balding, Horseshoe Bays)
There are walking tracks to Arthur Bay, Florence Bay, Radical Bay, Balding Bay and Horseshoe Bay from Horseshoe Bay Road. Park at the Forts car park and follow Radical Bay Road. This road is sealed but poorly maintained and can only just be accessed by 4wd (even with them it isn't easy).
Arthur Bay walk – 1.4 km return (about 30 minutes)
Florence Bay walk – 3.6 km return (about 1 hour)
Radical Bay walk – 6 km return (about 2 hours)
Horseshoe Bay via Radical Bay walk – 7.5 km one way (about 2hrs)
There are toilets at Florence Bay and Horseshoe Bay, but drinking water is not available, so take plenty with you.
We only hiked to Arthur Bay as it was sweltering and our girls were tired. There's a lookout here with stunning views over the bay.
Arthur Bay is in a marine park zone and has the island's best snorkelling. However, the water was very murky on the day we visited, so we didn't get to see much.
Snorkelling
Nelly Bay and Geoffrey Bay both have snorkel trails, marked by white floats. The trail at Nelly Bay is close to shore but the Geoffrey Bay one is further out.
Be careful at Geoffrey Bay as the coral is very sharp and I cut my foot on it.
As mentioned above, Arthur Bay has a fringing reef as well as Florence Bay.
Wallabies at Geoffrey Bay
There's a large population of rock wallabies that live among the rocks at Geoffrey Bay. You can see them on Armand Way and, if using google maps, it actually says "rock wallabies" where they are found.
The best chance of seeing the wallabies is around dusk, but we spotted a couple in the late afternoon just before our return ferry.
It's preferable not to feed the wallabies, but if you have to, ONLY feed them the following foods:
• Carrots
• Sweet potatoes
• Rock melon
• Apples
• Pawpaw, or
• Wallaby pellets which are available from most retail outlets.
Feeding them anything else can cause them serious harm or even death.
Magnetic Island Snorkel, Boating and Diving Tours
Aquascene is rated the number 1 boat cruise tour on Magnetic Island. They are a small family-run business, which focuses on creating safe, fun-filled adventures of excellent quality at an affordable price. On this snorkel tour, you will discover secluded bays and beaches and snorkel along fringe reefs. Tours are designed around the tides and conditions on the day to ensure you have the best snorkelling experience.
Aquascene also offers a Magnetic Island Sunset & Shipwreck two-hour scenic tour between Nelly Bay and Cockle Bay. The destination is the shipwreck, City of Adelaide, where you will learn about her as the sun sets.
Where is Magnetic Island?
Magnetic Island is located 8 km off the coast of Townsville, Queensland.
How to get to Magnetic Island
International visitors will need to fly via one of the major cities, like Brisbane or Sydney. From there, take a domestic flight to Townsville. Find details about visas, prohibited items, currency, and safety on our Australia page.
If you haven't booked your flight yet, look at our travel resources to find out how to get the best flight deals.
If you enjoy rail journeys, the Spirit of Queensland runs five times a week from Brisbane and Cairns. The journey takes about six hours from Cairns and eighteen from Brisbane.
The Greyhound Australia bus travels between Brisbane and Cairns, stopping in Townsville.
Alternatively, you could make Magnetic Island part of a Brisbane to Cairns road trip.

Car Hire – There are a few car hire companies available at the airport. I use Rentalcars.com to compare prices.
TIP: The earlier car hire is booked, the more options there are, and the lowest prices. Click on the above car rental links to get great deals.
Magnetic Island Ferry from Townsville
From Townsville, passenger and car ferries run daily over to Nelly Bay on Magnetic Island. We took our hire car over; it was an easy 35-minute crossing and a smooth sailing. It is quite expensive, with prices starting at A$216, but we wanted the freedom to explore the island at our own pace. Alternatively, hire a vehicle on the island (see below). You can find the Magnetic Island Car Ferry timetable on their website.
How to get around Magnetic Island
Magnetic Island Car Hire
If you don't bring your car over on the ferry, hire a car or barbie car (they look like Barbie's convertible) from one of the car rental companies. Tropical Topless rent out these topless cars which are a lot of fun, but you're not allowed on certain roads and are quite expensive. They are also immensely popular. If you want to travel on unsealed roads, consider a 4×4 from Arcadia Beach Car Hire or one of the other 4wd rental companies on the island. Make sure to check the conditions of hire as they do vary.
Bus
For the budget-conscious Sunbus run a service that meets the Sealink ferry arrivals and departures. They travel from Picnic Bay to Horseshoe Bay via Nelly Bay, about every 45 minutes. Check their website for a timetable and prices.
Tour
If you'd prefer to make the most of your day on Magnetic Island, consider a tour like this one. The bus picks you up from the ferry and takes you on a guided tour of the island's top sights as well as off the beaten path spots. Your guide will provide lots of information on local culture, history, and wildlife.
Magnetic Island Weather and 7 Day Forecast
Magnetic Island Queensland has a tropical climate and is warm year-round. Maximum temperatures range from 31 C in summer (Dec-Feb) to 25 in winter.
The wet season is December to March with February being the wettest month. Rainfall can be heavy during this time and the humidity high. However, there are still plenty of sunny days.
Expect much less rain from April to November with September being the driest.
The tropical cyclone season is from November through to April.
See the detailed 7-day forecast at the Bureau of Meteorology.
A Brief history of Magnetic Island
I would like to respectfully acknowledge the Wulgurukaba People, the Traditional Owners, and First People of these lands. I would like to pay my respect to the Elders past, present, and future, for they hold the memories, the traditions, the culture, and hopes of the Wulgurukaba People.
The Wulgurukaba people or the "canoe people" have lived on Yunbenun (Magnetic Island) and the mainland for thousands of years. Their Dreamtime stories tell of the Big Carpet Snake that linked Magnetic and Palm Islands to the mainland.
Sadly the Wulgurukaba people were forced off their traditional lands after confrontations with European settlers and losing their food sources. Some Wulgurukaba people have since returned to the island.
Magnetic Island was named by Lt James Cook in 1770 when he believed that there was a magnetic field altering his compass around the island.
It became a popular place for picnics in the 1800s, and the first resort was built in 1890. From then on, tourism began to grow to what it is today.
Magnetic Island Map
A map, walking trails, and tips on Magnetic Island wildlife can be found in the Sealink Magnetic Island Wildlife and Trails Guide.
For more things to do in Queensland, check out this Queensland Travel Guide.
FAQ
Can you drive to Magnetic Island?
No, you can't drive to Magnetic Island, but you can take your car across on the ferry. Alternatively, hire a vehicle over there.
Can you swim on Magnetic Island?
Yes, you can swim on Magnetic Island. There are stinger nets at Picnic Bay and Horseshoe Bay. If you want to swim elsewhere in stinger season, it is advisable to wear a stinger suit. These can be hired at several outlets on Magnetic Island.
Are there crocodiles at Magnetic Island?
Yes, there are crocodiles in the area surrounding Magnetic Island. Crocodiles have been spotted in the waters between Townsville and Magnetic Island. Pay attention to signs and check with the local tourist information centre before swimming here.
How many days do you need on Magnetic Island?
The number of days you need on Magnetic Island depends on what activities you want to do. We went on a day trip but didn't do any hikes. If you're going to participate in more activities and hikes, I suggest spending at least two days on the island.
Is Magnetic Island safe?
Yes, Magnetic Island is as safe as many other places in Australia. Tips on staying safe on Magnetic Island include wearing a stinger suit during stinger season, swimming only at patrolled beaches, sticking to the speed limit of 50km on side roads and 60 km on the main road, being sun smart, and sticking to the paths when hiking (to avoid being bitten by a snake).
When is stinger season on Magnetic Island?
Stingers are present in the ocean year-round but are more common from November to May. During this time, it is advised to wear stinger suits when entering the sea.
Stinger nets protect from the deadly Box Jellyfish, but not the venomous Irukandji jellyfish. 
If you found our Things To Do on Magnetic Island guide helpful, please consider sharing booking through one of our links. It won't cost you anything but will help towards the cost of running this site. Thank you 🙂