The Best Things To Do in Noosa with Kids 2023
Noosa is a beautiful town on the Sunshine Coast, Queensland, Australia, known for its picturesque beaches, stunning sunsets, and delicious food. There are several things to do in Noosa for families, including beaches, walks, visiting one of only two everglades in the world, and enjoying an extensive range of kid-friendly activities.
We've visited Noosa a few times while our children were growing up and found some amazing activities and attractions that are family-friendly.
Disclosure: This post may contain affiliate links (of which we use) so we may receive a small amount of commission if you buy something through them, at no extra cost to you. You can read the full disclaimer here.
Things to do in Noosa for Families
There are plenty of free things to do in Noosa with kids, including walks in Noosa National Park, botanic gardens, lookouts, markets, and Noosa Main Beach.
Main Beach
Noosa Heads Main Beach is the most accessible and popular beach in Noosa with its white sand and crystal-clear water. Because of this, Main Beach can be crowded, especially in summer when Noosa is filled with holidaymakers.
The waves at Main Beach are usually gentle, and the beach is patrolled daily, making it ideal for families with young children. The safest swimming is in the main patrolled area east of the groyne. Although a lifeguard is west of the groyne, rips are usually present.
You will find Main Beach at the end of Hastings Street, where pandanus and palm trees line the front.
Facilities include:
BBQs
Parking
Toilets
Picnic tables
Shade
Showers
Lookout
Noosa Main Beach Parking
Despite having over 50 free parking spots at the Noosa Surf Club, it's hard to park there. Noosa Junction has over 1500 free car parking spaces, but it's about a 25-minute walk to Main Beach. There's also plenty of paid parking – just read the signs carefully to avoid fines. Lions Park in Noosa Heads has some free parking spots for up to four hours and will take you ten minutes to walk to Main Beach.
Other Noosa Beaches
You will find other stunning beaches just out of town, including Sunshine, Sunrise, Castaways, Marcus, and Peregian.
Sunshine Beach
Sunshine Beach has some of the most expensive houses in Noosa, including a house bought by ex-prime minister Kevin Rudd for A$17 million. The beach offers a quieter alternative to Main Beach.
Swim only between the flags when the beach is patrolled due to dangerous rips along the coast.
The Sunshine Beach Surf Lifesaving Club is a great place to stop for food and a drink with views over the beach.
There are numerous surf breaks the length of the beach, with the best conditions at high tide on a moderate swell.
The rips produce good holes the length of the beach for fishing.
The Northern end of Sunshine Beach, at Seaview Terrace to the northern boundary of Noosa National Park, is a dog off-leash area.
Facilities include:
Parking
Toilets
Showers
Shade
Picnic Shelters
Kiosk
Park
BBQ
Duke Street has a few trendy cafes, restaurants, and boutiques that line the street. Some have lovely outdoor areas to make the most of the weather.
Sunrise Beach
Sunrise Beach, between Sunshine and Peregian Beaches, is backed by a caravan park overlooking the beach. A lifeguard only patrols the beach during the Christmas and Easter holidays, so avoid swimming outside these times due to the persistent strong rips.
Surfers enjoy the numerous beach breaks along the coast, with the best conditions at high tide on a moderate swell.
The rips produce good holes the length of the beach, which is great for fishing.
From Sunrise Beach South, at the southern end of Tingira Place, down to and past Castaways Beach is another off-leash dog beach.
Facilities include:
Parking
Toilets
Drinking Water
Marcus Beach
This 5 km beach between Sunrise and Peregian is unpatrolled and relatively hazardous due to the persistent strong rips. Therefore, Marcus Beach is best for beach walks, beach fishing, or experienced surfers.
Peregian Beach
Peregian Beach stretches for 4 km down to Stumer Creek mouth.
The Peregian Surf Life Saving Club, established in 1962, is opposite the main shopping area. Swim only between the flags due to the strong rips.
There are surfing breaks the length of the beach, with the best conditions at high tide on a moderate swell.
The rips produce good holes for fishing the length of the beach.
Walk along Noosa Boardwalk
Walk from Little Cove Beach to Noosa National Park along the wooden boardwalk. Pandanus trees fringe the walkway that has views over the ocean. It's a popular walk, especially at sunset.
Visit Noosa National Park
Noosa National Park covers about 4,000 ha from Noosa Heads down to Coolum Beach and is one of our favourite places in Noosa. The scenic hiking trails take you along the coast, through paperbark forests, rainforest, and coastal dunes.
It's easy to get to as well, only a 15-minute walk from Noosa Surf Club to the day use area of the National Park. There is a car park at the day use area, but it is small and hard to find a car space.
Large signs at the day use area (near the car park) provide details and maps of the trails along with other information. There are toilets, a shower, drinking water, bbq, and picnic table here too.
From there, you have a choice of four walking trails:
Palm Grove Walk – 1.1 km return
Tanglewood Walk – 8 km return
Noosa Hill Walk – 2.8 km return
Coastal Walk – 10.8 km return (allow 4 hours)
We chose the Coastal Walk, a favourite with locals who enjoy walking and running along the ocean and the most popular with visitors. Surfers, photographers, and hikers can't get enough of the views over rocky headlands to sandy beaches with turquoise water.
You may even be lucky to spot a koala sleeping in the trees, but sadly their numbers have declined in recent years. However, look for brush turkeys, glossy black cockatoos, and hawks.
Noosa National Park Coastal Walk
From the car park to Dolphin Point, the path is sealed, but the remaining part of the trail is a natural track with uneven sections.
Stop at Boiling Pot Lookout for views of the waves crashing onto the hollow brown granite rocks below, making it seem like water is boiling. Take in the view of the Coral Sea and surfers – keep an eye out for dolphins and whales as well as white-bellied sea eagles and koalas in the trees. It's an easy 300m walk from the day use area to Boiling Point Lookout.
Tea Tree Bay Beach is the first beach you'll see on the trail, about twenty minutes from the start. The beach is surrounded by pandanus trees and flat rocks you can sit on to take in the view. If you're there at low tide, explore the rock pools for crabs, fish, and sea anemones.
This beach is unpatrolled and is unsuitable for swimming due to strong currents, dumping waves, and submerged objects. However, experienced surfers who know how to avoid the rocks, enjoy Rocky Point, known for its steep, hollow waves at low tide and fat, slow waves at high tide.
The bay is named after the coastal tea tree, also known as the broad-leaved paperbark, that grows here and can survive in waterlogged soil.
The Kabi Kabi people brew the leaves for medicinal purposes and use the papery bark for wrapping food and lining coolamons (water carriers).
Dolphin Point Lookout is between Tea Tree Bay and Granite Bay, where you can sometimes see dolphins surfing the swell. Also, look closely for green and loggerhead turtles that swim just beneath the ocean surface, popping their head up briefly. We saw pods of dolphins here, but no turtles.
It's a peaceful spot to stop and relax taking in the mesmerising view of the ocean.
From Dolphin Point, the track is unsealed and can be steep in places.
You'll see Winch Cove and Picnic Cove as you follow the track around Granite Bay. The views of the ocean and coastline as beautiful from here – I spent ages taking photos!
At the end of the bay (before bearing right towards Hells Gates) are the Insta-famous Fairy Pools, natural tidal rock pools created by waves eroding the basalt rock. They have become increasingly popular due to social media with photos of "influencers" floating in the crystal clear water like at Indijup Natural Spa in Western Australia.
To get to them, you must leave the designated trail and make your way down to the rocks where some rock scrambling is required. On a sunny day at low tide, the rocks surrounding the pool are teeming with people.
The smaller pool of the two is only usable at low tide, but the larger one may be ok at high tide. As you can see from our photo, the ocean was too rough and the swell too high for any kind of floating when we were there!
However, I personally don't agree with visiting these pools for a few reasons. Firstly, we are walking on Kabi Kabi land and should treat it with the respect it deserves. The unofficial track created by thousands of visitors impact the sensitive environments and visual quality for other sightseers. It can also be dangerous, with near deaths and serious injuries. The rocks can be slippery, and the ocean has a strong current – you don't want to be pummeled against the sharp rocks.
The high bluff at Hell's Gates provides views of the coastline north to Double Island Point and south over Alexandria Bay. Look for birds of prey, including osprey and sea eagles. Be careful here as there aren't barriers and a sheer 10 m drop – keep to the designated viewing area.
The trail continues to Alexandria Bay on the eastern side of the Noosa Heads National Park. Known as A-Bay to the locals, this is Noosa's unofficial nudist beach (and, yes, we did see some people without clothes).
From here, you can carry on the Coastal Trail to Devil's Kitchen and Sunshine Beach or take the inland Alexandria Bay trail to walk through eucalyptus forests. It's 1 km to Sunshine Beach from the end of Alexandria Bay via a rocky pathway that leads to 219 concrete steps down to Sunshine Beach.
Return the way you came or take a taxi/uber back. We walked to the Sunshine Beach Surf Club and onto the village where we had brunch at The Deck and after took an uber back to Noosa (it cost A$15 as there was a lot of traffic).
Bring drinking water, a hat, sunscreen, and snacks on this hike.
The Noosa National Park Coastal Trail is best walked in the early morning or late afternoon to avoid the heat.
Noosa Headland section walking track map
View this copy of the Noosa National Park walking trails map to show the paths.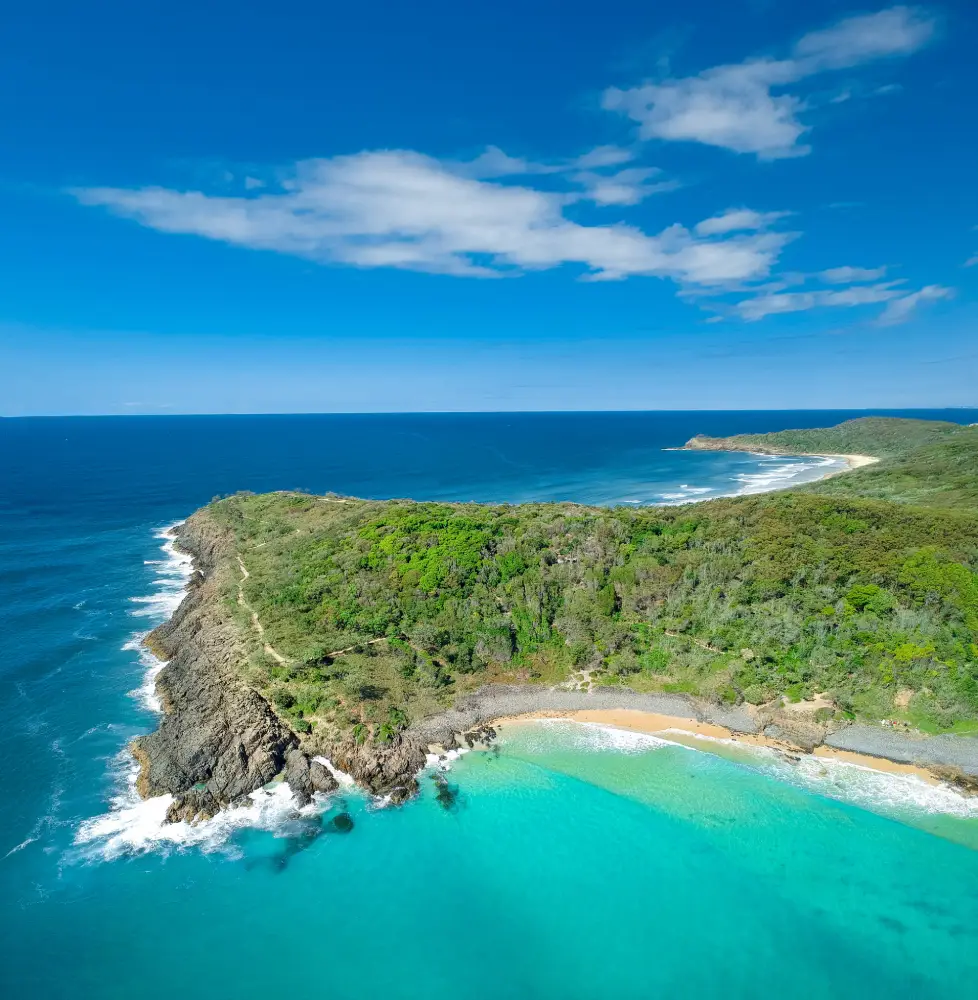 Stroll along Hastings Street
Hastings Street is the main street in Noosa, with Noosa Heads Surf Life Saving Club at one end and Noosa Spit Recreation Reserve at the other end.
Trendy boutiques, alfresco cafes, art galleries, and gourmet restaurants line this hip street. During the day, hit the shops or have a coffee at one of the cafes. At night, the twinkling fairy lights provide a romantic feel, and one of the best things to do in Noosa at night is to take a stroll along this strip.
See the View at Laguna Lookout
Laguna Lookout is at the end of Viewland Drive, a five-minute drive from Hastings Street. The car park is only small, so there is a chance you may not be able to park (we were able to). However, you can walk, which would take around 25 minutes from the surf club.
There used to be panoramic views over Noosa National Park, but views are now limited due to the growth of trees. One lookout still has a scenic outlook, but I wouldn't bother if the car park was full and I had to walk there.
Walk around Noosa Botanic Gardens
A great free thing to do in Noosa is visit the botanic gardens, which have views over Lake Macdonald. Wander along the paths in this 8-hectare garden featuring native and exotic plants and wildlife.
While there, visit the open-air bush chapel, a Greek-style amphitheatre, and a lily pond.
The botanic gardens are a popular spot for a picnic or have a bbq in the nearby foreshore park next to the boat ramp.
Cooroy
Half an hour from Noosa lies the country town of Cooroy, which takes its name from Mount Cooroora (named from the local aboriginal word "kurui," which probably meant possum).
Initially settled in the late 1800s as a timber town, you can learn about its history on the Cooroy Heritage Walk. Visit two historic sites – Fenwick's Sawmill Lower Mill and the Butter Factory.
Visit Eumundi Markets
Eumundi Markets, established in 1979, is the biggest artisan market in Australia. Located about a 25-minute drive from Noosa, the markets are open every Wednesday and Saturday until 2 pm.
Over 600 stalls are set up in this open-air market featuring local arts and crafts, clothes, jewelry, natural products, fresh produce, and artisan food.

So why not browse for a unique gift, grab a bite to eat, and enjoy the live music and performers.
If you don't have transportation, Coast to Hinterland Tours offers air-conditioned minibus transportation to Eumundi Markets.
Browse Noosa Regional Gallery
The Noosa Regional Gallery, at 9 Pelican St, Tewantin, showcases a varied range of art, from local artists to international exhibitions. The gallery is open Tuesday to Friday from 10 am to 4 pm and Saturday and Sunday from 10 am to 3 pm.
Entry to Noosa Regional Gallery is free.
They also offer a range of programs, including artist talks, masterclasses, and workshops for all ages.
Climb Mt.Tinbeerwah
Under half an hour by car from Noosa Heads lies Mt.Tinbeerwah, in Tewantin National Park. The easy 1 km trail has views over the Sunshine Coast landscape. It wasn't the best hike we did on the Sunshine Coast, but it didn't take long to reach the summit and the view was nice.
Join the Surfing Culture
Main Beach is the best place for beginner surfers due to its small waves. However, longboard surfers prefer the waves at First Point, which parallels the headland.
If you're in Noosa in March, the family-friendly Noosa Festival of Surfing event takes place. This festival is considered Australia's largest surfing event and will celebrate its 32nd anniversary in 2023.
Don't know how to surf? Try a 2-hour surf lesson at the famous Noosa Heads Beach, a safe way to try surfing, where you'll be riding the waves in no time!
A long sleeve rashie or wetsuit is included in the price along with a soft beginner surfboard, sunscreen, and a lock-up trailer for your items.
Prices (including free cancellation up to 24 hours prior) in June 2022 are as follows:
Click on the company names to find out more and for full conditions.
Experience Noosaville
Noosaville is more of a residential area with a laid-back vibe, only a five-minute drive from Noosa Heads. Take a walk along the river for views of houseboats and boats making the most of the calm water.
The grassed area beside the river is perfect for a family picnic or use one of the many picnic tables along the foreshore.
Gympie Terrace runs parallel to the river with a mixture of holiday resorts, apartments, cafes, restaurants, and shops.
For a different perspective, kids will enjoy a ride on the Noosa Ferry between Noosa Marina and Noosa Heads, stopping at Noosaville.
The Noosa River is popular with families who enjoy the playgrounds, fishing along the riverbank, paddling in the water, or water sports.
There are three craft breweries in Noosaville; Land & Sea Brewery, Boiling Pot Brewing Co and Heads of Noosa Brewing Co., all of which have a kids' menu.
Visit the Noosa Chocolate Factory to sample their products and buy some of their signature fresh rocky road, made daily.
Hire a Boat
If you don't have your own boat or kayak, you can hire one from numerous operators along the river.
Sunset Noosa River Cruise
One of the most popular things to do in Noosa is a sunset river cruise. The best value is the Noosa Queen, which is only A$15 per person. Unfortunately, it wasn't running while we were there.
Noosa Ferries also operate a sunset cruise for A$29 per adult and A$17 for children 5 to 17 from Noosaville – prices are dependent on pick up and drop off location.
Go Fishing
Several companies like Deep Sea Fishing Co operate fishing charters off the Sunshine Coast. With Deep Sea Fishing Co, you can choose a nine and a half hour charter, seven, or five.
You'll fish for coral trout, snapper, trag jew, pearl perch, moses perch, mackerel, tuna, and sail fish, which will be cleaned and ready to take home. Bait, tackle, and all equipment are included in the price.
Try Horse Riding
If you love horses, contact Equathon Horse Riding Adventures, which offers a range of packages, including hourly, private, and overnight. Their horse rides are suited to riders of all skill levels.
Have an Electric Bike Adventure
Hire an electric bike to explore Noosa – the ideal way to get around without spending a fortune. With plenty of options available, you can find the perfect electric bike for your needs and budget. Plus, with a motor that provides plenty of power, you won't have to worry about getting tired or pushing the bike uphill.
Several companies offer electric bike hire in Noosa, including Bike On and EcoTekk.
Take Kitesurfing & SUP Lessons
If you're looking for a fun and active way to spend your day, consider taking a stand-up paddle board lesson in Noosa. These boards are perfect for exploring the waterways. Instructors teach you the basics on land, so don't worry if you're not an experienced paddler.
4WD at Noosa North Shore
Noosa North Shore is an 80 km stretch of beach in the Great Sandy National Park. The quickest way to access North Shore is via the Noosa North Shore Car Ferry from the river end of Moorindil Street, Tewantin. The ferries run about every ten minutes but can be cancelled due to king tides, sea surges, severe winds, or excessive rain.
From here, you can choose to enjoy this remote beach or head up to Double Island Point and Rainbow Beach on the Great Beach Drive, one of the longest beach drives in the world.
The ferry to K'gari (Fraser Island) departs from Inskip Point.
As we didn't have a 4WD on this trip, we couldn't go to Great Sandy National Park, but all the information, including vehicle access permits, is on The Department of Environment and Science site.
If you want to experience the Great Beach Drive, try a private tour where you'll visit 40-mile Beach, the Red Canyon, and the Colored Sands. Spot dolphins, sea turtles, and sting rays along the coast with a stop to swim in a saltwater lagoon.
Drive along Rainbow Beach
Rainbow Beach, a stunning gateway to Fraser Island and Cooloola National Park, has crystal clear waters and a multitude of colours in the sand. This iconic beach is perfect for swimming, sunbathing, and enjoying the natural beauty.
You can access the town without a 4WD and walk along Rainbow Beach past rocks and caves to the coloured sands, about 2 km south of Rainbow Beach Surf Life Saving Club.
The Carlo Sand Blow, Cooloola National Park, Double Island Point Lighthouse, Poona Lake, and Seary's Creek are other places to visit.
There are plenty of activities at Rainbow Beach to keep you busy like:
Skydive
By law the minimum age to tandem skydive in Australia is 16 years old. If under 18 years old, a parent or legal guardian must be present on the day of the jump.
Skydiving in Noosa is one of the most exhilarating experiences you can have. The beautiful sunshine coast scenery and the friendly staff make it an unforgettable experience. Adrenaline will pump through your veins as you experience a 60-second freefall through the sky, followed by a five to seven minute float to the ground.
Jumping out of a plane from 15,000 feet is definitely something to brag about!
The lowest prices I could find were with Klook and Get Your Guide.
Skydive Noosa pricing with Klook here.
Skydive Noosa with GYG here.
Take a Tour with Noosa Oceanrider
If you visit Noosa from July to the middle of October, you can join a whale watching tour to hopefully see whales on their annual migration along the coast.
The Ocean Rider Dolphin Safari is a popular tour in Noosa where you'll get up close and personal to see dolphins play and feed. Start with a relaxing scenic cruise down the Noosa River and around the headland with views of Noosa, including Hells Gate, before finding the friendly dolphins.
Self-Guided Water-Bike Tour
Take in the natural beauty of the Noosa River on an eco-friendly water bike where you'll discover wildlife – search the shallows for sting rays and fish and the bush for birds and kangaroos.
Ocean Adventure Ride
Enjoy the adventure of a high-performance ocean ride into Noosa's National Marine Park to encounter species such as dolphins, sea turtles, and aquatic birds.
Your experience includes ocean-swell surfing, turns, figure-eights, and tear drops, stopping along the way to see Noosa National Park, Little Cove Beach, Tea Tree Bay, Noosa Main Beach, and the Noosa River.
Explore Noosa Everglades
Noosa Everglades provide the opportunity to explore one of only two everglades in the world. A 60km stretch of pristine water, it is known as the River of Mirrors due to the spectacular reflections in the water.
You can explore the flora and fauna of the Noosa Everglades several ways:
Things to do in Noosa on a Rainy Day
Despite most activities in Noosa being outdoors, you can still find things to do when it's raining. Have lunch or a drink at one of the cafes along Hastings Street or take the kids to see a movie at Noosa Cinemas at Noosa Junction. Young kids can play in the Kids Room at Noosa Leisure Centre while you enjoy a coffee.
How many days do you need in Noosa?
We only stayed two nights during winter due to time restraints. However, three nights would have been better to see everything and enjoy some more of the activities.
If you plan on relaxing on the beach or taking a day tour, stay in Noosa for up to a week.
Best Restaurants in Noosa
The best restaurants in Noosa offer fantastic food and stunning views. Whether you're looking for a casual breakfast spot or a luxurious dinner, these favourites will have you spoilt for choice:
Sails Restaurant Noosa $$$$
Noosa Cruiser Restaurant & Bar $$-$$$
Noosa Waterfront Restaurant & Bar $$$$
Season Restaurant $$-$$$
Gusto $$-$$$
Bistro C $$-$$$
Grind Café $$-$$$
Hand of Fatima $$-$$$
Betty's Burgers $
Best Noosa Accommodation – Where to Stay
If you are looking for somewhere to stay in Noosa, you'll want to check out the range of accommodation options available. From beachside apartments to hostels, there is something for everyone. Noosa has something for you, whether you're planning on spending your days swimming and exploring the local beaches or relaxing in one of the area's many luxurious resorts.
We use Booking.com for most accommodation bookings as they offer free cancellation on most rooms, have a loyalty program (Genius), and have great customer support. We also use Agoda depending on pricing (click on photo for Agoda).
Where we stayed in Noosa
We were on a tight budget this trip and the only accommodation that suited our needs was in Noosaville. However, the three bedroom townhouse in the Ivory Palms Resort suited us perfectly.
The house had cable TV & DVD, air conditioning, ceiling fans, a hair dryer, fully equipped kitchen, laundry facilities, WiFi, an in-room safe and a lock-up garage.
The two-way bathroom is upstairs with the three bedrooms and there's an extra toilet downstairs.
The patio would be ideal for having an early morning cup of coffee or relaxing in the evening.
Facilities at Ivory Palms Resort include:
a 17.5m Jumping Pillow
a gated children's playground
3 swimming pools
2 spas and sauna
games room
5 barbeque areas
floodlit tennis court
conference room
restaurant & bar
hire services including bike hire, tennis equipment, and DVD hire.
Located at 73 Hilton Terrace Noosaville, it was easy to drive into Noosa Heads and close to the Noosa River.
We paid A$243 per night through booking.com
Best Luxury Accommodation in Noosa – Hotels & Resorts
We walked past this luxury resort and spotted guests relaxing on their balcony watching the sunset over Noosa Main Beach. It's definitely somewhere I'd like to stay if we had the budget.
Located in the heart of Noosa Heads, everything is on your doorstep – Noosa National Park, Noosa Boardwalk, Hastings Street, restaurants and bars, and beaches.
You have the choice of studios, one, two or three bedroom apartments, including penthouse suites.
The 28°C heated pool is open exclusively to resort guests from 8 am to 8 pm daily.
This type of luxury doesn't come cheap though – a two-bedroom mid-level beachfront apartment is around A$5,200 for three nights.
Hotel rating 8.7 Stars 4.5 Cost $$$ See Prices Here
49 Hastings Street, Noosa Heads
Located right on the beachfront at Laguna Bay, these apartments include a spa bath and private balcony with ocean views.
Facilities include:
Tennis Court
Fitness Centre & Beauty Treatments
Air Conditioning
BBQ
Kitchen or Kitchenette
Free private parking on request
Swimming Pool & Hot Tub
Free WIFI
Luggage Storage
Concierge
Daily Housekeeping
Hotel rating 8.9 Stars 4.5 Cost $$$ See Prices Here
13 Hastings Street, Noosa Heads
These modern apartments overlook Laguna Bay, a highly-rated central location.
Facilities include:
Fitness Centre
Air Conditioning
Kitchen
Free parking
Swimming Pool
Free WIFI
BBQ
Luggage Storage
Daily Housekeeping
Hotel rating 8.9 Stars 4.5 Cost $$-$$$ See Prices Here
16 Crusoe Court, Sunshine Beach
Located opposite Castaways beach, this private holiday home has six bedrooms which can sleep up to 10 adults & 4 children.
Facilities include:
Terrace
Pool with a view
Sea view
Free private parking
Free WIFI
Kitchen & Laundry
BBQ
24-hour Front Desk
Air Conditioning & Heating
Satellite Channels
Games Room
Hotel rating 10 Stars 4 Cost $$$ See Prices Here
36 The Promontory Noosa Waters, Noosaville
This waterfront residence is in an exclusive canal estate next to the Noosa River, featuring some of the most prestigious homes in Noosa.
The four-bedroom house has four bathrooms and sleeps up to 8 people.
Facilities include:
Patio
Free private parking
Kitchen & Laundry
BBQ
Air Conditioning
Foxtel
Private Jetty
Games Room
Gas Fireplace
Hotel rating 10 Stars N/A Cost $$$ See Prices Here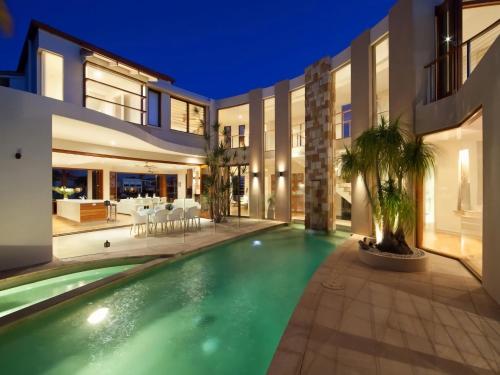 35 Seaview Terrace, Sunshine Beach
This five-bedroom beach house can sleep up to 10.
Villa Isabelle has a balcony and is situated within 250 m of Sunshine Beach. This property offers a private pool, free WIFI and free private parking.
The air-conditioned holiday home has a fully equipped kitchen and five bathrooms.
Facilities include:
Free WIFI
Ocean Views
Balconies
Free private parking
Kitchen & Laundry
BBQ
Air Conditioning
Private Pool
Hotel rating 10 Stars N/A Cost $$$ See Prices Here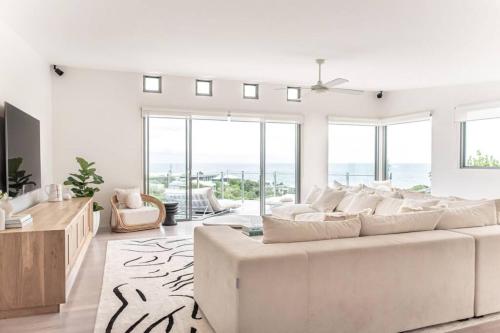 3 Morwong Drive, Noosa Heads
This property is 3 minutes walk from the beach and is surrounded by tropical landscaped gardens.
Facilities include:
Free WIFI
Free private parking
Swimming Pool
Sun Terrace
Kitchen & Laundry
BBQ
Satellite Channels
Air Conditioning & Heating
Hotel rating 9.1 Stars 4 Cost $$$ See Prices Here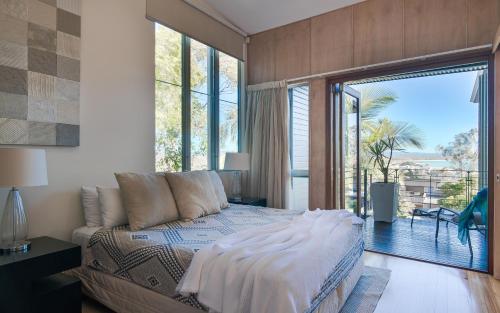 25 Hastings Street, Noosa Heads
These apartments are in a prime position opposite Noosa Beach.
Facilities include:
Outdoor Pool
Fitness Centre
Free WIFI
Cable TV
Air Conditioning & Heating
Kitchenette or Kitchen
BBQ
On-site Restaurant
Free Parking
Daily Housekeeping
Luggage Storage
Soundproof Rooms
Hotel rating 9 Stars 4.5 Cost $$$ See Prices Here
The Best Hostels in Noosa
102 Pacific Avenue, Sunshine Beach
This is the best hostel in Noosa offering a range of budget-friendly accommodation options in Noosa.
Facilities include:
Outdoor Pool
Air Conditioning & Heating
Games Room
Luggage Storage
BBQ
Shared Kitchen
Free Parking
Free WIFI
Free Breakfast
Hotel rating 8.7 Stars 4 Cost $ See Prices Here
Budget Accommodation in Noosa
4 Prestwick Ct, Tewantin
This Bed & Breakfast, in Tewantin just outside of Noosa, offers a choice of rooms with continental breakfast included.
Facilities include:
Outdoor Pool
Air Conditioning & Heating
Free WIFI (public areas)
Free Breakfast
Luggage Storage
Free Parking
Hotel rating 9.3 Stars N/A Cost $ See Prices Here
223 Weyba Road, Noosaville
This motel is on the Noosa loop, a short walk to Noosaville Foreshore and a five-minute drive to Hastings Street.
Facilities include:
Outdoor Pool
Air Conditioning & Heating
Kitchenette
Free WIFI
Breakfast at extra cost
Free Parking
Hotel rating 8.9 Stars 4 Cost $ See Prices Here
263 Edwards Street, Sunshine Beach
Located opposite Noosa National Park and a short walk to Sunshine Beach, this motel offers fully self-contained one-bedroom units.
Facilities include:
Outdoor Pool & Spa
BBQ
Free WIFI
Free Parking
Air Conditioning & Heating
Kitchen
Luggage Storage
Hotel rating 9 Stars 3.5 Cost $ See Prices Here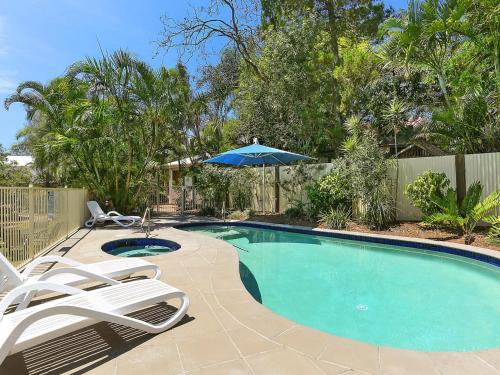 Noosa Caravan Parks
The best caravan parks and camping in and around Noosa are:
Noosa River Holiday Park
Big4 Ingenia Holidays Noosa
Ingenia Holidays Noosa North
Boreen Point Campground
Cooroy's No Worries RV
Where is Noosa Queensland?
Noosa is a coastal town on the Sunshine Coast, north of Brisbane.
Noosa Weather
The average maximum temperature in Noosa ranges from 21°C in July (winter) to 28°C in January (summer).
The coldest time of year in Noosa is winter (June to August) with average minimum temperatures of around 11°C and the warmest is summer (December to February) at about 21°C.
The warm summer months have high humidity with February and March having the most rainfall.
The driest months are August and September.
Spring and autumn are perfect for hiking.
For more information, see the Bureau of Meteorology.
How to get to Noosa
Sunshine Coast Airport
Sunshine Coast Airport, also known as Maroochydore Airport, is a 30-minute drive south of Noosa.
Road
The best and easiest way to get around the Sunshine Coast is by car or campervan. The roads are easy to navigate, and routes are well sign posted.
You can drive from Brisbane to Noosa in around 90 minutes via the M1 (tolls apply).
Noosa Car Hire
It's best to hire a car from one of the rental companies at Brisbane airport or Sunshine Coast Airport, depending on where you fly into.
Bus
Several bus companies provide services between Brisbane and Noosa.
Greyhound runs a coach service from Brisbane to Noosa with prices from A$30 one way, with a journey time of around two hours.
Compare and book your trip with Busbud – read their tips on how to find cheap bus tickets here.
Transfers
Coast to Hinterland Tours offer a transfer service from Brisbane Airport to the Sunshine Coast using a pre-booked fixed price. The door-to-door meet and greet service with drop-off at your chosen destination includes luggage, airport parking, and tolls in the all-inclusive affordable transfer prices.
Where to Next?
Heading down to Brisbane? Check out these guides:
Travel Tips and Information
To help plan your holiday, use this Queensland Travel Guide which includes helpful information.
Feature image is an aerial of Noosa National Park by Tourism and Events Queensland.