The Best Things To Do in Mooloolaba Queensland 2023
Mooloolaba is a small town on the Sunshine Coast, Queensland, Australia. With its long white sand beaches and crystal-clear waters, Mooloolaba is known for its laid-back lifestyle and stunning natural beauty. It offers plenty of activities for visitors of all ages, making it the perfect place to relax and explore.
The town has a modern and trendier vibe than its neighbours and is popular with younger generations.
Disclosure: This post may contain affiliate links (of which we use) so we may receive a small amount of commission if you buy something through them, at no extra cost to you. You can read the full disclaimer here.
Things to do in Mooloolaba
Kawana
Kawana Beach stretches 9 km from Currimundi Creek mouth up to Point Cartwright, making it one of the longest on the Sunshine Coast. However, the beach has a lot of rips, so swim between the flags by the Kawana Waters Surf Life Saving Club.
This beach has surf breaks along the entire beach, which are best in a moderate swell at high tide.
Night Quarter is a street food market featuring a large variety of food options and live music. This entertainment venue is open Friday and Saturday nights from 4 pm to 10 pm.
We haven't visited Night Quarter and there are mixed reviews online. If you have been, please let me know what you thought in the comments.
8 The Avenue, Birtinya
Point Cartwright
Point Cartwright offers stunning ocean views, a lighthouse, and fresh seafood.
This beach at the end of Kawana Beach is unpatrolled but is popular for its surfing break. Swimming is not advised due to dumping waves, strong currents, and submerged objects. Dogs are allowed off-leash on this beach.
The car park is small and unsuitable for caravans and RVs. If you can't get parked, try parking at La Balsa car park, although it is a longer walk.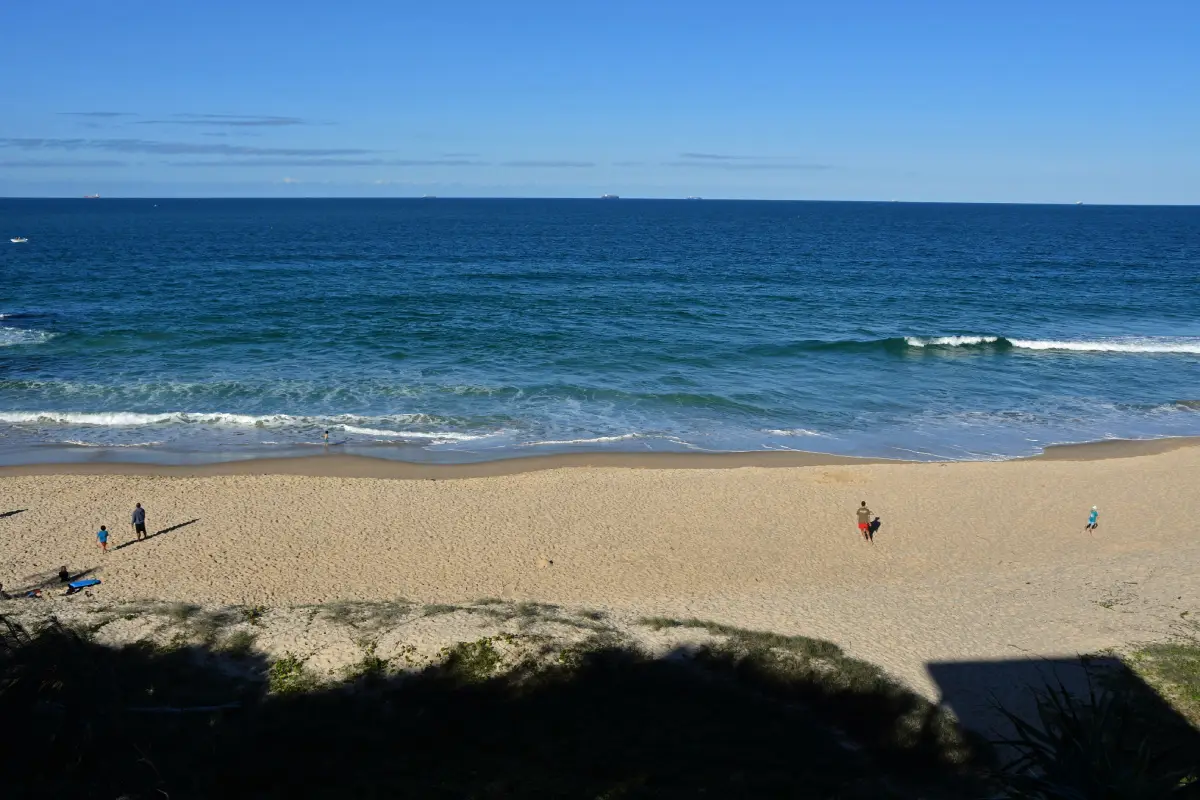 Walk 200m from the car park to Point Cartwright Lighthouse for spectacular views of Mooloolaba, Mooloolah River mouth, Mount Coolum, and Kawana Beach from the high cliffs. The lighthouse was built in 1978, replacing two previous lighthouses that guided vessels into Moreton Bay.
Look for the water tower art painted by Brightsiders, Joel Fergie & Travis Vinson. This is the second mural to be painted on this water reserve, the first being in March 2016 by Joel Fergie, Travis Vinson, and Jordon Bruce. The whale, turtle, and fish used about 400 litres of paint and was visible to cruise ships out at sea.
When the mural became weathered in early 2022, Joel Fergie and Travis Vinson returned to bring the art back to life.
Point Cartwright is a coastal paraglider flying site, situated within the controlled airspace of Sunshine Coast airport (MCY). Sunshine Coast Aviators are lucky to be granted permission to fly within this zone with certain conditions. If you want to fly here, you must be a member of both Sunshine Coast Aviators and SAFA.
The 3.5 km Point Cartwright Loop starts at La Balsa car park, leads to and around the lighthouse on the coastal path, and returns along the river. From the lookout, you may see humpback whales and turtles.
If you've parked at La Balsa Park, it's a great place for a picnic after your walk.
Mooloolaba Spit
Mooloolaba Spit, at the southern end of Mooloolaba Beach, has parks with a playground, picnic shelters, and cafes lining the street. You can walk from the spit to Mooloolaba Beach.
Mooloolaba Beach
Mooloolaba Beach is patrolled daily by surf lifesavers and is one of the Sunshine Coast's safest beaches. The small waves are good for beginner surfers.
Facilities at Mooloolaba Beach include:
Toilets
Beach Showers
Barbecues
Parking
Water taps
Beachfront caravan park
Beach Volleyball
Beach Volleyball is held every week near the surf club. If the courts are not being used, they are available to the public on a first come basis. You can hire balls from the Old Bean Espresso Bar.
Mooloolaba Surf Club
For a nice cold beer, coffee, and delicious food with a view, book a table at Mooloolaba Surf Club and help support these legends.
The Wharf Precinct
The Wharf Precinct is situated in the marina of Mooloolaba River incorporating shops, restaurants, entertainment venues, adventure activities, and the SeaLife Aquarium.
It has recently been refurbished and is now a trendy spot to catch up with friends with a variety of restaurants, cafes, and bars that look out onto the marina.
The boutique shops looked cute selling upmarket designs and unique homeware.
It's a great spot to relax and watch the busy trawlers bringing in seafood, including swordfish, Mooloolaba prawns, lobsters and spanner crabs.
The Wharf is where many adventure tours depart, including Adventure Rafting, Coastal Express Whale Watching Tour, Coastal Cruises, Mooloolaba Canal Cruises, Rum Runner, Saltwater Eco Tours, Whale One, Top Catch Charters, and Sunreef.
See Coastal Cruises Prices Direct Here
Traditional Owner Guide and Cultural Tour
One of the most highly rated tours in Mooloolaba is this two-hour cultural tour by Saltwater Eco Tours. As you cruise on a restored 113-year-old timber sailing vessel, your native guide will share engaging stories and ethnic demonstrations.
A delicious lunch, including fresh Mooloolaba prawns and oysters with complimentary sparkling wine or local beer, is included in the price of your ticket.
Book with Saltwater Eco Tours here
Adventure Rafting
If you like an adrenaline rush, this powerful, 350-horsepower action raft zooms through the waterways with dramatic twists and turns. The ride is one hour long and a fun way to see the coastline.
Mooloolaba Cruises
Coastal Cruises is a family-owned business offering daily seafood lunches and sunset cruises.
The seafood lunch cruise lasts 90 minutes, where you can relax and enjoy delicious local seafood while taking in the stunning scenery around you.
See Coastal Cruises Prices Direct Here
The 90-minute sunset cruise takes you through the river and canals. Dinner isn't included in the price, but you can buy it on board. They offer a full seafood menu, including sides, mains, platters, and a kids' menu.
Mooloolaba Esplanade
Take a walk along the beachfront esplanade for shops, cafes, and restaurants. There's even a 'loo with a view'!
Mooloolaba Boardwalk
The new scenic Mooloolaba boardwalk provides views along Mooloolaba Beach to Point Cartwright.
Mooloolaba Diving
A dive on the HMAS Brisbane, one of the world's best wreck sites, is a must if you are an open water certified diver. Located only a 15-minute ride offshore, the Charles F Adams Class DDG guided missile destroyer is 133 metres long. With a depth range between 15 and 28 metres, you may see many species of turtles, including hawksbills and loggerheads. Other marine life you may encounter on the dive are octopus, nudibranchs, leopard shark, Queensland groupers, squid, yellowtail kingfish, red emperor, snapper, lionfish, angler fish, blennies, sea hares, and batfish.
Scubaworld offers diving tours to HMAS Brisbane.
Aquaduck Sunshine Coast
The one-hour Aquaduck tour is fun for the whole family. See the sights of Mooloolaba by road and water! We did an Aquaduck tour in London and loved it. Just something a bit different.
Sunshine Coast Craft Beer Tour
Meet this craft beer tour at Taps Mooloolaba and then head to either Your Mates Brewing Co. or Moffat Beach Brewing for a behind-the-scenes look plus a tasting paddle. Lunch and another tasing paddle are next at Brouhaha Brewery in Maleny, followed by a visit to Glass House Brewery and the final tasting paddle of beers.
Book here with free cancellation.
Whale Watching
From the beginning of June through to the start of November, you have the chance to see humpback whales in their annual migration along the Sunshine Coast. Several companies offer whale watching tours in Mooloolaba, but one of the most popular is onboard the luxurious Whale One by Sunreef.
Book here with free cancellation.
Other companies that offer highly rated whale watching tours are:
Swim with Whales
Sunreef also offers the opportunity to swim with humpback whales, the first company in Australia to be allowed to do so. The tour is 100% on the whale's terms and Eco Tourism Certified. Wetsuits and snorkelling equipment are provided on this four-hour tour.
Coast to Hinterland Tours
Leave the coast behind you as you head inland to discover picturesque villages on this full-day excursion.
Have a guided tour around the Buderim Ginger Factory to see how ginger is grown, harvested, and made into a delicious range of products.
Stop at the Mapleton Falls lookout for amazing views over the Obi Obi Valley and the rainforest canopy.
Browse the shops at the Hinterland village of Montville before heading to The Barn on Flaxton or The Edge Restaurant, where you will have lunch.
See views from Gerrards Lookout before the last stop of the day, Mary Cairncross Scenic Reserve.
Book here with free cancellation.
Seaplane Adventure
Paradise Seaplanes have 10-minute flights from the Maroochy River over Cotton Tree, Mooloolaba Beach, and Point Cartwright Lighthouse.
Deep Sea Fishing
This deep sea fishing & crabbing charter 55ft fishing vessel heads out at 5:30 am and is suited to all levels of fishing expertise, from the beginner to experienced. On the way back, crab trays will be winched up, and the fresh catch will be cooked and put on ice for you to take home. Your legal-size catch can be kept or released back into the water.
Mooloolaba Day Spa
Book a spot at one of the many day spas like Zen Den Day Spa, Naked Skin Day Spa, or Salt Caves if you're after some relaxation and pampering.
Pandanus Lookout
This lookout is north of Mooloolaba Beach with shaded BBQs, picnic tables, and toilets.
HMAS Brisbane Lookout, Alex Hill
The HMAS Brisbane lookout is located on the Alexandra Headland with views out over the ocean (a great spot to look for whales). The lookout is shaped like a ship's bow, with the bow pointing towards the sunken HMAS Brisbane.
There are BBQs and shaded picnic tables for you to make the most of the beautiful view.
SeaLife Sunshine Coast
We didn't visit this Sunshine Coast attraction due to personal beliefs. However, it is popular in Mooloolaba, with families enjoying taking children to walk through the 80 m ocean tunnel to see marine life close up.
You can even do a shark dive or a seal swim experience.
Open from Thursday to Monday, 9 am to 3 pm and
Monday to Sunday during school holidays (QLD & NSW) 9 am to 3 pm.
Buy entry tickets here with free cancellation.
Australia Zoo
Steve Irwin, one of Australia's most famous personalities, made Australia Zoo known worldwide through his series, The Crocodile Hunter. His parents founded the original park under the name Beerwah Reptile and Fauna Park.
I still remember where I was when I heard the news of Steve's tragic death; it was ironic that it was a stingray inflicted wound that killed him and not one of the hundreds of crocodiles he helped relocate.
His widow, Terri, and his two children, Bindi and Bob, run Australia Zoo now to honour the greatest Wildlife Warrior that ever lived so that his legacy lives on.
You can read more about the history of Australia Zoo on their website.
The zoo is one of the most popular attractions on the Sunshine Coast, attracting over 700,000 visitors annually. We enjoyed our visit a few years ago, especially the Wildlife Show at the Crocoseum.
Australia Zoo Tickets
Buy direct for Australia Zoo standard admission plus experiences.
If you want transport from Brisbane included, there are two companies to choose from. Click on the names for more details, including cost.
Buderim
Buderim is a 15-minute drive from Mooloolaba, on and around a volcanic plateau. The main attractions here are the Buderim Forest Waterfall Walk, Buderim Falls (also known as Serenity Falls), and Foote Sanctuary.
I highly recommend taking time to visit Buderim Falls and take the slightly longer trail along the boardwalk. It was the highlight of our time in Mooloolaba.
If the walk makes you hungry, visit the Buderim Tavern or Harry's on Buderim offers contemporary fine dining in a 140-year-old, heritage style homestead.
Read more about Buderim Falls, including which is the best trail to take and where to park.
Mooloolaba Accommodation
Mooloolaba Accommodation for families
Coco Mooloolaba $$-$$$
These family-friendly apartments are only a four-minute walk to the beach. They have laundry facilities, a fully equipped kitchen, including a dishwasher and microwave, and a tv with cable channels. In addition, there's a heated outdoor pool and BBQ area.
84 The Spit Holiday Apartments $$
Only one minute walk to the beach and three minutes walk to Underwater World, these family apartments offer self-catering accommodation with direct access to Mooloolaba Beach. Every apartment has laundry facilities and a fully equipped kitchen with a dishwasher, microwave, and refrigerator. The outdoor heated pool is fenced for extra peace of mind.
These family-friendly apartments feature a balcony with views over Mooloolaba Beach. The resort has a heated swimming pool, a small tennis court, BBQ facilities, and a sauna. There is a fence around the outdoor heated pool.
Mooloolaba Beachfront Apartments
This 5-star resort offers a choice of luxury apartments with spacious balconies overlooking the ocean. The stylish accommodation has an outdoor pool, steam room, a hot tub, and a fitness centre. Apartments are serviced daily.
Very highly rated on Booking.com
Breeze Mooloolaba, Ascend Hotel Collection $$
These apartments aren't right on the beach, but some have ocean views. Situated only 350m from Mooloolaba Beach, they have a choice of one and two-bedrooms with a kitchen. The property has a heated pool and hot tub/spa.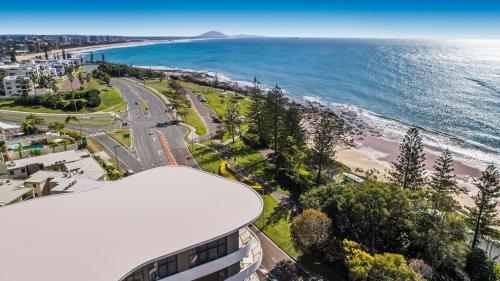 Mantra is on Mooloolaba Beach Esplanade, with some apartments offering sea views. There's a choice of one, two, or three bedrooms with a kitchenette or fully equipped kitchen and laundry. Facilities include:
Two heated swimming pools.
A rooftop deck with city and sea views.
Games room.
Hot tub/jacuzzi.
Spa.
Fitness centre.
Private Holiday Accommodation
Stayz (part of the VRBO group) have a wide range of accommodation options in and around Mooloolaba.
Mooloolaba Best Restaurants & Cafes
Some of the best places for food or drink are:
Rice Boi $$
Bella Venezia Italian $$
Spice Bar $$$
Fish on Parkyn $$$
Backlane Bar & Street Food $$-$$$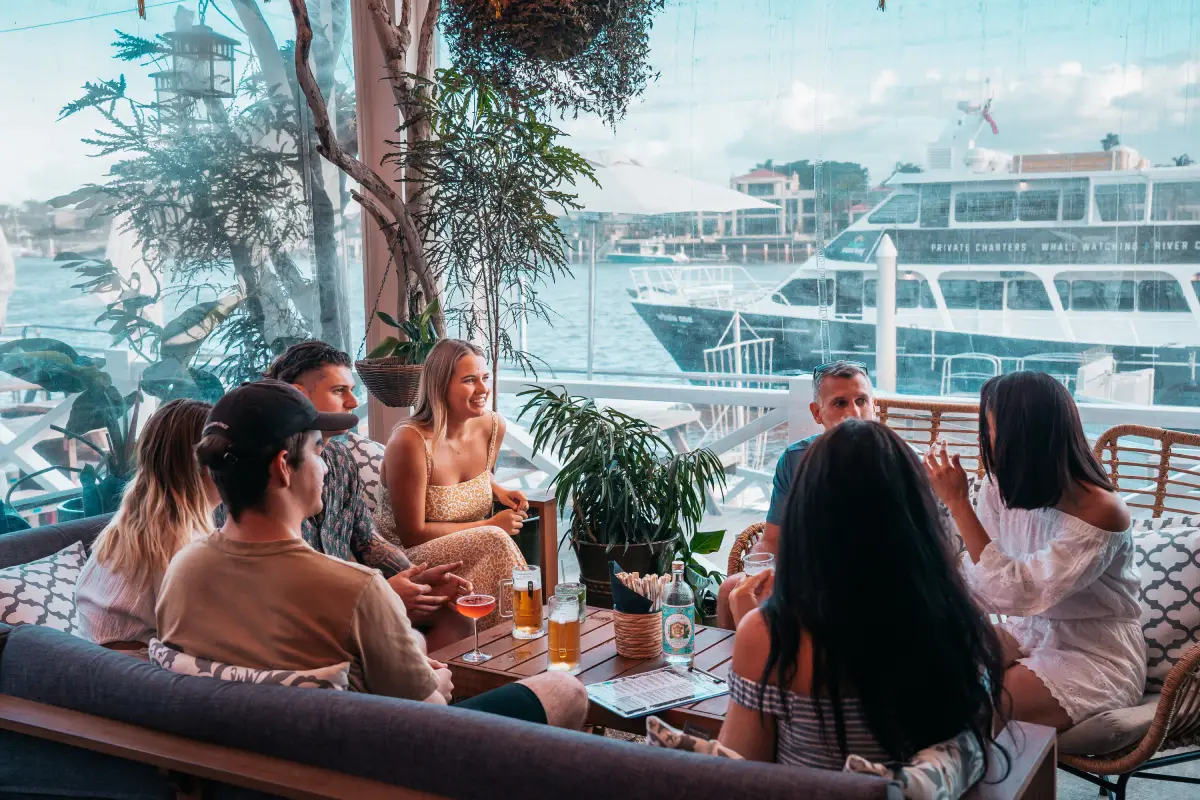 Mooloolaba Weather
The average maximum temperature in Mooloolaba ranges from 21°C in July (winter) to 29°C in January (summer).
The coldest time of year in Mooloolaba is winter (June to August) with average minimum temperatures of around 10°C and the warmest is summer (December to February) at about 21°C.
The wettest month is February, while September is the driest.
For more information, see the Bureau of Meteorology.
How to get from Brisbane to Mooloolaba
Road
The best and easiest way to get around the Sunshine Coast is by car or campervan. The roads are easy to navigate, and routes are well signposted.
You can drive from Brisbane to Mooloolaba in under two hours via the M1.
Mooloolaba Car Hire
It's best to hire a car from one of the rental companies at Brisbane airport or Sunshine Coast Airport, depending on where you fly into.
There are car hire booths at Brisbane Airport, but it's best to pre-book your car rental.

To compare Australian car hire prices, Discover Cars is an award-winning car rental comparison website. They offer competitive pricing in over 10,000 locations worldwide and are highly rated.

DriveNow is a good resource to compare campervan hire in Western Australia. It includes all the large companies like Britz, Maui, & Jucy as well as smaller ones.

Compare Rental Cars Here.
Public Transport
It is feasible to get to Mooloolaba from Brisbane by public transport but may include a few transfers.
Use translink.com.au to plan your journey.
Bus
Greyhound runs a coach service from Brisbane to Noosa, stopping in Mooloolaba. Prices start from A$30 one way, with a journey time of around 80 minutes.
Transfers
Coast to Hinterland Tours offers a transfer service from Brisbane Airport to the Sunshine Coast using a pre-booked fixed price. The door-to-door meet and greet service with drop-off at your chosen destination includes luggage, airport parking, and tolls in the all-inclusive affordable transfer prices.
Where to Next?
If you're heading up the Sunshine Coast, these guides will help you plan your itinerary:
Heading down to Brisbane? Check out these guides:
Travel Tips and Information
To help plan your holiday, use this Queensland Travel Guide which includes helpful information.
Feature image is Mooloolaba Beach courtesy of Tourism and Events Queensland.