The Best Things To Do in Maroochydore 2023
Disclosure: This post may contain affiliate links (of which we use) so we may receive a small amount of commission if you buy something through them, at no extra cost to you. You can read the full disclaimer here.
Looking for an up-to-date guide on things to do in Maroochydore? Having visited recently, I've updated my article with the latest activities and attractions.
If you're looking for something to do on the Sunshine Coast, then you'll be hard-pressed to find a better place than Maroochydore. With its wide range of activities, there's something for everyone to enjoy.
Our recent stay in Maroochydore was part of our Sunshine Coast road trip.
Things to do in Maroochydore
Paradise Seaplanes
This incredible ten-minute seaplane adventure takes off from the Maroochy River and heads over the river mouth for an aerial view of the beautiful coastline, including Cottontree, Point Cartwright, Mudjimba, and Mudjimba Island (also known as Old Woman Island).
See prices direct with Paradise Seaplanes here.
Sunshine Plaza
Sunshine Plaza is the largest shopping centre on the Sunshine Coast with over 320 specialty stores and David Jones, Myer, Kmart, Target, Big W, Coles, and Woolworths.

Parking is free for under three hours, if you spend over A$150 and validate your purchases, if you arrive after 6 pm and leave before 2 am, or have an authorised disabled parking permit and register with Customer Service.

The Riverwalk, along Cornmeal Creek, has a variety of restaurants, a cinema, and paddle boats for hire.
Sunshine Brewery
Since opening in 2017, Sunshine Brewery has won nineteen awards for its beers.
Visit them at 28 Fishermans Road, Kuluin, Maroochydore on Wednesdays to Sundays from midday to 7 pm.
Private Maroochy River Eco Cruise
This eco-certified river cruise by Cruise Maroochy lets you experience the Maroochy River while tucking into morning tea of homemade hot scones, jam, and fresh whipped cream and learning about the culture and history of the area.
At the Wetlands Sanctuary, you have an hour to stroll to the visitor center and see mangrove forests before continuing your cruise around the Wetland's Islands while enjoying a BBQ lunch.
Maroochy River Golf Club
Maroochydore Golf Club was awarded one of the Top 100 Golf Courses in Australia for its spectacular 18-hole, par 72 championship course. Visitors are welcome to play and dine afterwards in its Cane Cutters Bar & Bistro. You can hire equipment from the Pro Shop.
Book online.
Lawn Bowls
Club Maroochy's barefoot bowls is open to guests, provided you sign in at the entrance to the club. The price in June 2022 was A$12 for an adult and A$10 per child. Children must be over 10 years old to play, but they have large tennis balls for the younger ones to use. Children must be supervised and, if not playing, are to remain off the greens.
Things To Do in Maroochydore for Free
Maroochydore Esplanade
Maroochydore Esplanade is a popular spot for locals and tourists to relax and enjoy the sun. It features several restaurants and cafes, as well as parks. Take a scenic stroll with views of the Maroochy River and stop for a drink or something to eat at one of the cafes (our coffee was great from Café 37).
Chambers Island
Chambers Island can be accessed by boat or the footbridge across the Maroochy River. There are sandy beaches around the small island, a playground, toilets, and picnic tables.
As you can see from our photo, the weather wasn't very nice, so we had a quick walk around the island and returned to the mainland. I'm sure it's a lot different on a warm, sunny day though.
Maroochydore Beach
This popular sandy beach is patrolled by Maroochydore Surf Life Saving Club with toilets and showers. Due to the number of rips along this stretch of beach, it's best to swim between the flags in the patrolled area.
The best surfing is the break off Alexandra Headland, but there are also beach breaks all the way up to the river mouth.
There's a playground and grassed area by the beachfront too.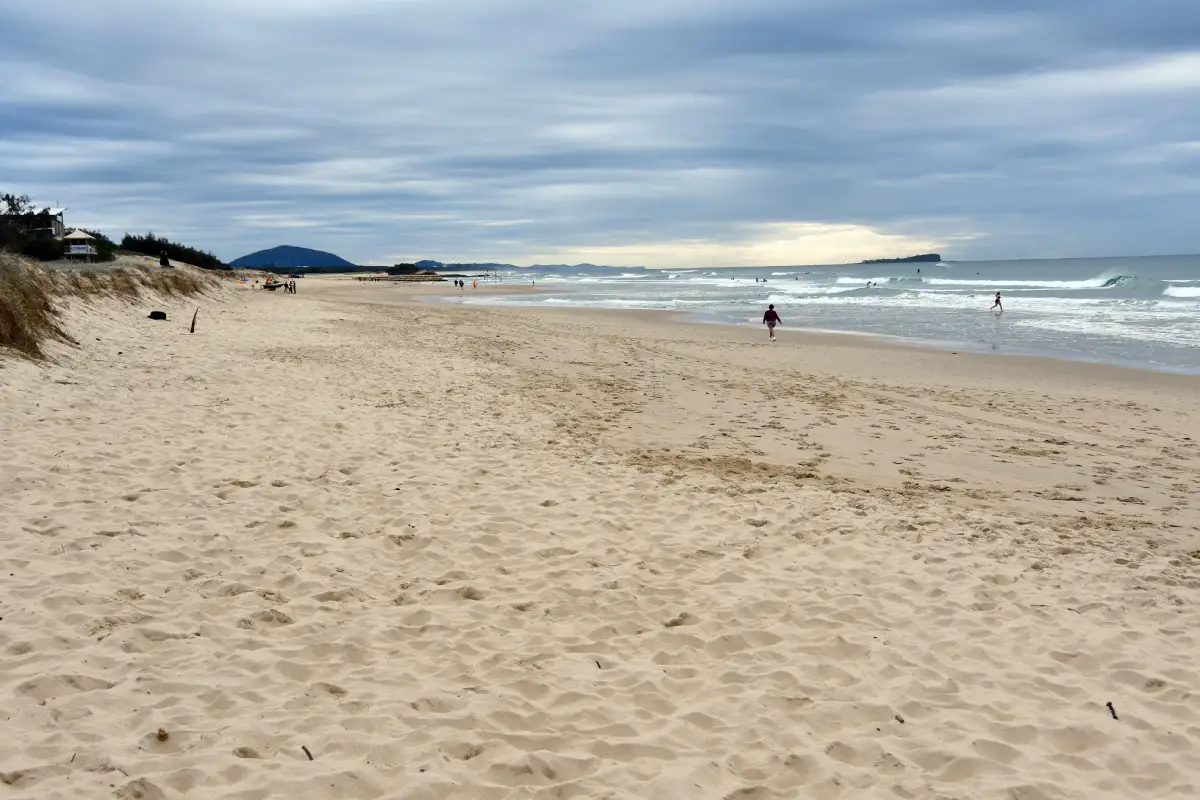 Fishing
The best fishing spots in Maroochydore are mainly around the river and headland, with beach fishing into the rip holes when present.

In the Maroochy River, you may catch Mangrove Jack, Bream, Flathead, Whiting, and Trevally.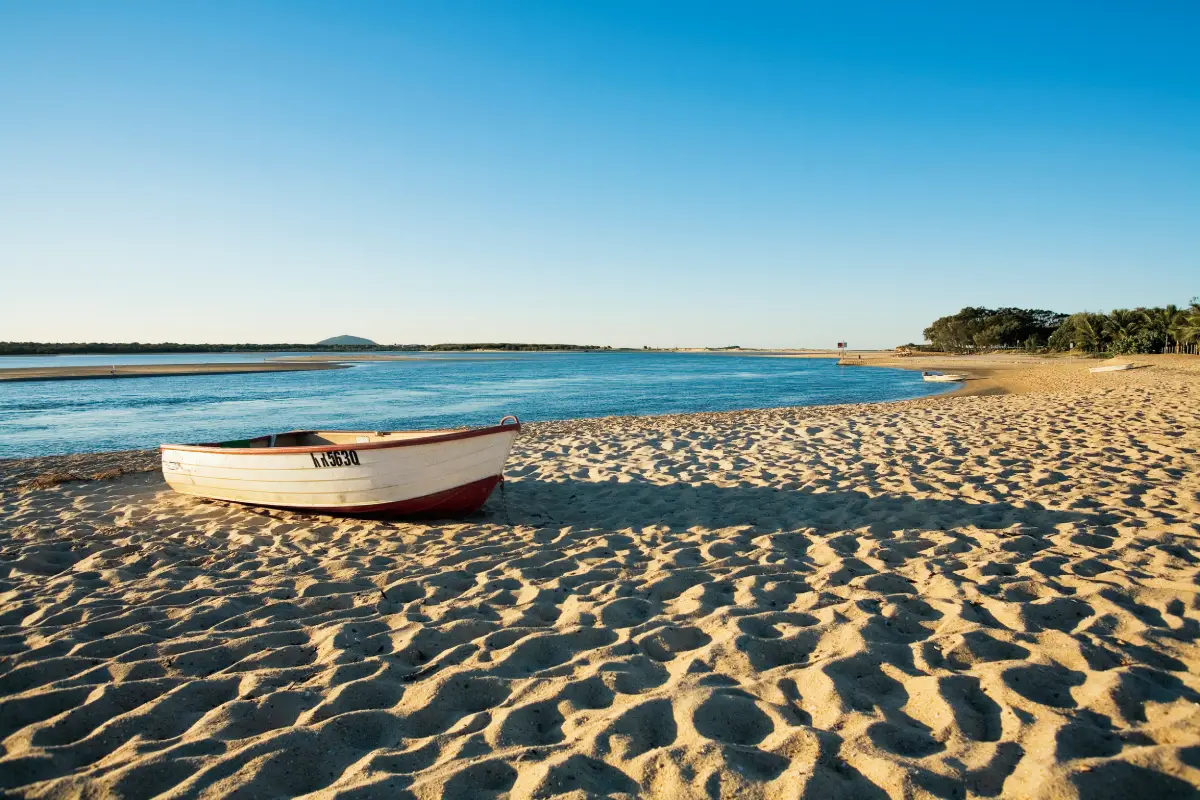 Cotton Tree
Cotton Tree, named after the native cotton trees along the river, is a popular holiday spot, especially with families. The calm conditions make it perfect for water sports, and kids enjoy the Cotton Tree Playground.
Spend a few hours there and stay for a picnic or BBQ.
You can hire a boat and go to Pincushion Island, a tall sand and rock formation famous for its fishing.
Be aware that bull sharks can be in the Maroochy River, especially after heavy rain.
Cotton Tree Pier is a perfect place for photos, especially at sunset.
On Sunday, wander around the markets open from 7 am to 12 pm with stalls selling fresh produce and local arts and crafts.
For more shopping, Duporth Avenue has a host of boutiques with a range of fashion and homewares.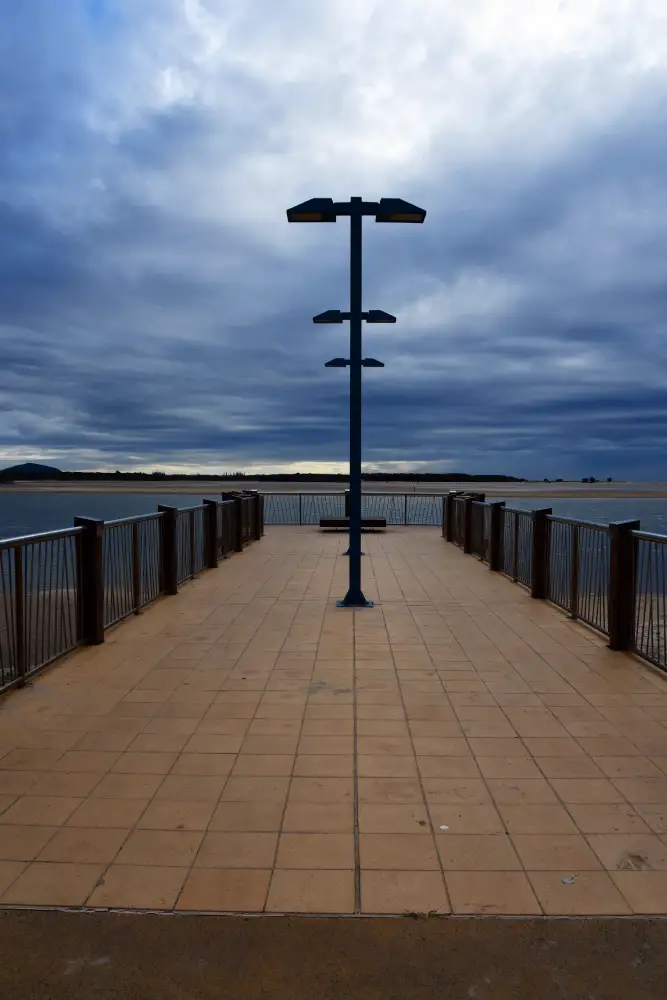 Coastal walk from Cotton Tree to Alexandra Headland
This hour-long walk (3.6 km one way) provides stunning ocean views and is popular with early morning walkers, joggers, and cyclists. Return along the beach for a different perspective.
There are plenty of places to stop along the route for coffee or food.
This coastal trail is part of the 96 km Sunshine Coast Coastal Pathway that stretches from Pelican Waters to Tewantin.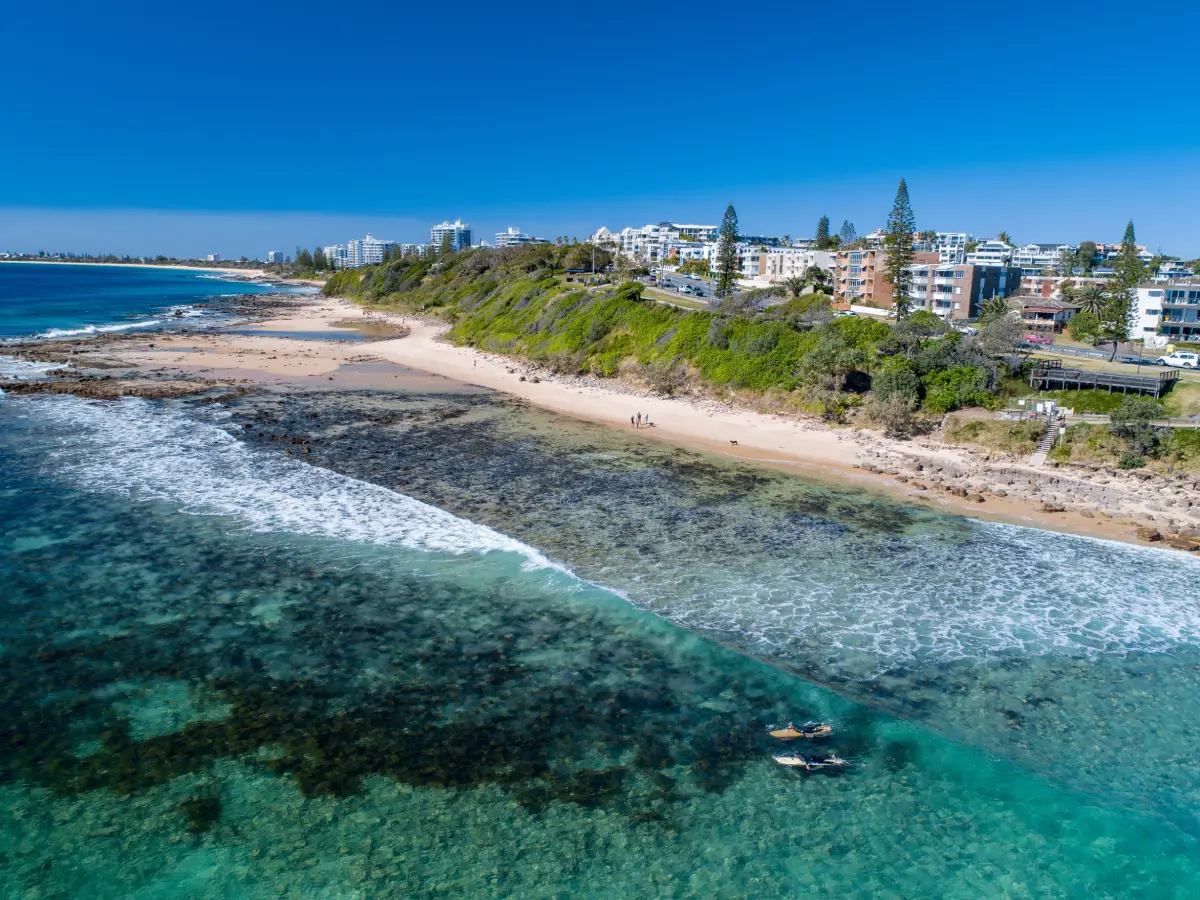 Maroochy Bushland Botanic Gardens
This Maroochydore botanic garden sits on 112 hectares near the Tanawha Golf Course. It's the perfect spot for a walk or picnic with natural forest, manicured native gardens, nature play spaces, and art installations.

You can participate in one of the free guided walks available most Thursday mornings from the Arts and Ecology Centre at 9 am.

The garden is open from 7 am to 5 pm (April to October), and 7 am to 6 pm (November to March).
Mudjimba Beach
Mudjimba Beach, 3 km south of Marcoola, is a potentially hazardous beach with persistent rips and strong currents. It would be best to swim in the patrolled area near Mudjimba Surf Club watch tower.

There are some excellent surf breaks along the beach and great fishing spots.

The grass area near the surf club has a kids' playground, picnic tables, and BBQs. Across the street, you will find places to eat.

Dogs are catered for as well, with the North Shore Off-Leash Beach at the southern end of the beach.
Marcoola Beach
Marcoola Beach is a long, potentially hazardous beach with persistent rips and strong currents. You should swim at the area patrolled by the Marcoola Surf Life Saving Club.
Marcoola Markets are held every Friday from 4 pm to 8 pm and is a great place to have something to eat.
Buderim Falls
Just a short drive away, Buderim Falls stuns with its lush rainforest setting and captivating waterfall. The tranquil walking trails and the mesmerising cascades of the falls are beautiful.
Family Things To Do in Maroochydore
Maroochydore Rotary Park
An excellent park for the kids to play in while you enjoy the scenic views of the river. Large trees provide shade on grassed areas where you can throw down a picnic rug. There are also barbecues and shaded picnic tables available.
The two playgrounds have a range of play equipment for all ages.
Amaze World
Amaze World, in Tanawha, is a fantastic attraction for families visiting Maroochydore.
The highlight of Amaze World is its intricate labyrinth, a maze that will put your problem-solving skills to the test.
For families with children, Amaze World offers even more fun with a range of family-friendly activities. From interactive puzzles to educational games, kids will have a blast while learning along the way. Plus, there are picnic areas where you can relax and enjoy a meal amidst the beautiful surroundings.
The Big Pineapple
This 16 m fiberglass pineapple, once had a million visits a year, making it the most popular tourist attraction in Australia at that time.
Unfortunately, the Big Pineapple site is currently closed, so you are unable to climb inside the structure or ride the train.
If you're passing, it's good for a photo opportunity though.
Maroochydore Zip Line
TreeTop Challenge high ropes and zipline course, located at the Big Pineapple, is the most elevated, largest, and most thrilling high ropes adventure park in Australia, with 120 challenges.
There are six courses to tackle, from easy to Black Diamond extreme, set amongst 10 acres of spectacular rainforest.
We didn't do this course, but had a lot of fun on something similar in Busselton WA.
Maroochydore Zoo (Wildlife HQ)
Wildlife HQ is a privately operated zoo at the Big Pineapple.
When Alma Park Zoo closed in March 2014, Julie Seabrook and her team moved over two hundred animals to their new home at Wildlife HQ. In July 2021, they received their ZAA Accreditation, meaning they are responsible for ensuring high animal welfare for all their animals.
This zoo offers feeding encounters and photo sessions with some animals (prices vary).
Mini Golf
A fun family activity in Maroochydore is mini golf at Maroochy River Mini Golf.
Open:
Sunday 9 am to 7 pm
Monday & Tuesday 9 am to 6 pm
Wednesday 9 am to 7 pm
Thursday to Saturday 9 am to 9 pm
Hire Paddleboat
Head to Sunshine Plaza and rent a paddleboat from the Plaza Pontoon.
Rush Adventureland
Rush Adventureland in the Sunshine Plaza provides unlimited playtime in the adventure center if you're looking for kids' things to do in Maroochydore when it's raining.

There's a multi-level soft-play indoor playground, Rush Coaster (the first indoor air coaster of its kind in Australia), high rope courses, climbing walls, bumper cars, and a virtual reality simulator.
Things To Do in Maroochydore at Night
Nights on Ocean Night Markets
Unfortunately, these markets don't seem to be operating at present.
On the second Friday of every month, stroll the markets showcasing local produce and enjoy the atmosphere with live music and entertainment.
Holy Moly Maroochydore
A fun idea of combining a game of mini golf with drinks. We enjoy the one in Perth; it's something different to do at night. Kids are welcome until 9 pm if an adult supervises them.
The limit of the number of shots per hole is six, so the games are fluid. A round of nine holes will take around 25 to 40 minutes.

The venue is fully accessible, with ramps on all courses.

Although Holy Moly accepts walk-ins, it's best to book online.
You can also play a game of bowling at Strike Bowling or try karaoke or the escape room while there.
Maroochydore Restaurants & Cafes
Maroochydore's Ocean Street is lined with restaurants and bars for you to choose from, and both the Maroochydore RSL and Maroochydore Surf Club offer good value meals.
Some of the best places to check out for food or drink are:
Pum's Kitchen $
Uptown Gastropub $$
Orleans Restaurant & Bar $$
Cala Luna Italian Restaurant $$
Red Sea Steak & Seafood Restaurant $$
Marrakech $$-$$$
Best Time to Visit Maroochydore
The average maximum temperature in Maroochydore ranges from 21°C in July (winter) to 29°C in January (summer).
The coldest time of year in Maroochydore is winter (June to August), with average minimum temperatures of around 10°C, and the warmest is summer (December to February) at about 21°C.
The wettest month is February, while September is the driest.
How to get to Maroochydore
Sunshine Coast Airport
Sunshine Coast Airport, also known as Maroochydore Airport, is ten minutes by road.
Public Transport
Bus route 622 travels from the airport to Noosa and Maroochydore.
Plan your journey with Translink.
Road
The best and easiest way to get around the Sunshine Coast is by car or campervan. The roads are easy to navigate, and routes are well signposted.
You can drive from Brisbane to Maroochydore in under 90 minutes via the M1 (tolls apply).
Maroochydore Car Hire
It's best to hire a car from one of the rental companies at Brisbane airport or Sunshine Coast Airport, depending on where you fly into.
Bus
Several bus companies provide services between Brisbane and Maroochydore.
Greyhound runs a coach service from Brisbane to Noosa, stopping in Maroochydore. Prices start from A$30 one way, with a journey time of around 100 minutes.
Compare and book your trip with Busbud – read their tips on how to find cheap bus tickets here.
Transfers
Coast to Hinterland Tours offers a transfer service from Brisbane Airport to the Sunshine Coast using a pre-booked fixed price. The door-to-door meet and greet service with drop-off at your chosen destination includes luggage, airport parking, and tolls in the all-inclusive affordable transfer prices.
Helpful Guides