A Perfect Getaway: 20 Things to do in Caloundra Queensland 2022
The stunning coastline of Queensland's Sunshine Coast is a must-see for tourists looking to explore the natural beauty of this state. With its stunning sandy beaches and crystal-clear waters, there are lots of things to do in Caloundra, one of Australia's fastest-growing cities.
We visited Caloundra on a road trip along the Sunshine Coast. It's an ideal place to base yourselves to explore the surrounding beaches, the Glasshouse Mountains, and the Blackall Range.
Disclosure: This post may contain affiliate links (of which we use) so we may receive a small amount of commission if you buy something through them, at no extra cost to you. You can read the full disclaimer here.
Things to do in Caloundra
Pelican Waters
Walk along the esplanade for views of Bells Creek and the Pumicestone Passage, a protected marine park and safe haven for wildlife. The 35 km channel between Bribie Island and the Caboolture coast is a popular location for water sports and nature lovers, where you can take a guided kayak tour, wind or kitesurf, or go bird watching.
You have the chance to see dugongs, turtles, dolphins, and a diverse range of birdlife.
Caloundra Cruise
Caloundra Cruises depart from the Pelican Waters Tavern Jetty, including the sunset cruise. The daily tours cruise along the Pumicestone Passage on a 1930s-style riverboat.
The most popular cruise is the Classic Caloundra, taking you along the Pumicestone Passage on a 1 hour 20 minute tour.
Golden Beach
Golden Beach is calmer than the surf beaches, making it perfect for swimming, fishing, and boating. It's also excellent for kayaking and stand up paddle boarding.
Check the price of hiring a kayak here or a SUP here.
Caloundra Coastal Walk
Walk along the coastal path from Golden Beach to Buddina for beautiful coastal views, beachfront houses, cafes, street vistas, the wreck of SS Dicky, and war memorials.

Start at Golden Beach and head north to Mooloolaba. This walk is 20 km one way, so you can either take an Uber back to the start point or walk part of the trail.

The trail is best walked in the morning before the sun gets too hot as it will take about four hours one way. A spectacular sunrise walk that gets busier as the day goes on.

If you have kids, stop at one of the beaches (Kings Beach is excellent for children) and a playground along the way.
Click on the map to take you to Google Maps.
Beachtree Distilling Co
If you like spirits, Beachtree Distilling is a small-batch handcrafted distillery selling gin and vodka. Their products use ethical and sustainable methods to source and produce world-class spirits, and the labels are cute too!
A wonderful idea they are promoting at present is for every 500 ml bottle of gin or vodka that you buy, they will have one tree planted on your behalf. I love this.
14 Industrial Avenue
Caloundra Street Art Trail
Take a wander through Caloundra and find the quirky huge murals depicting the area's culture and history. While walking along Bulcock Street, stop at one of the many boutiques, cafes, pubs, and restaurants.
Caloundra Botanic Gardens – Ben Bennett Bushland Park
This 21-hectare large reserve in central Caloundra has plenty of picturesque bushwalks and pathways taking you through forests, coastal heaths, and one of the few remaining areas of coastal lowland vine forest.
Apparently, there are plans for a road to be widened that will go through part of this bushland.
Bulcock Beach
A boardwalk runs along this picturesque beach, and there are many places to stop for a picnic under shady trees.
Swimming is only recommended on the main part of the beach between the flags. The point has strong currents and submerged objects.
From the point, you can see the tip of the northern part of Bribie Island which became separated from the southern part at the end of 2021 due to erosion from ex-tropical cyclone Seth. The Bribie Island breakthrough has left a 300 m channel that is treacherous due to strong currents and debris and watercraft users are warned to avoid the breakthrough area.
Caloundra Jet Ski Hire
Caloundra Jet Ski rent out jet skis if you have a licence – two hours starting from A$149.
This popular 90-minute jet ski tour of Moreton Bay Marine Park takes you through a narrow mangrove-lined marine channel to areas of dense jungle.
Caloundra Markets
Two markets operate in Caloundra:
The Caloundra Street Fair – every Sunday
This market, open from 8 am to 1 pm, features over 120 stalls selling fresh local food, flowers, fresh juices, breakfasts, coffee, lunch, sweet treats, and locally made products.
There are also performers each week and kids' activities.
Bulcock Street
The Caloundra Twilight Markets – last Friday of the month
Over 70 stalls line the waterfront of Bulcock Beach Esplanade on the last Friday of each month (apart from July & August) from 5 pm to 9 pm.
Kids' activities amuse the little ones while you enjoy local food and the sunset.
Bulcock Beach Esplanade
Unfortunately, we missed both these markets due to the timing of our trips to the Sunshine Coast.
Kings Beach
This beach is popular with families because it is patrolled all year and has playgrounds, large grassed areas, and child-friendly cafes. It's also renowned for learning to surf as it is southeast facing, and Moreton Island decreases the waves.
The Kings Beach Ocean Pool, a 25m seawater pool, is at the north end of the beach (you can see the white umbrellas around it in the photo below).
Kings Beach has great facilities too with Surf Lifesaving Club, toilets, parking, kids water fountain, picnic tables, and playground. Cafes look out onto the ocean, perfect for that morning coffee.
Caloundra's Old Lighthouse
The oldest building in Caloundra, the old lighthouse, is open every second and fourth Saturday of the month from 9 am to 3 pm.

It was built in 1896 with a timber frame with corrugated zinc anneal cladding, like many Queensland towers. You can read more about the history of Caloundra Lighthouse at Lighthouses of Australia here.
8/10 Canberra Terrace, Kings Beach
Shelly Beach
Shelly Beach is beautiful but not suitable for swimming. Instead, it's most known for its ankle-deep rock pools and the marine life there, including black sea cucumbers, common sydney octopus, blue periwinkles, and rose barnacles. Kids can spent ages here exploring the rock pools but please teach them not to touch and to leave these amazing creatures where they belong.
Moffat Beach & Moffat Headland Lookout
Moffat Headland Lookout provides views all the way along the coast to Mooloolaba on clear days. Located at Ma and Pa Bendall Park, the viewing platforms overlook Moffat Beach. It's a peaceful spot to take in the views and you may even spot a whale (we weren't so lucky though).
Small Moffat Beach has a lovely grassed area with pine and pandanus trees providing shade and a children's playground.
This beach is unpatrolled but can offer safe swimming under normal low wave conditions. However, it has strong rips when waves exceed 1 m. As with any unpatrolled beach, you swim at your own risk. If you want a paddle, Tooway Creek offers calm waters, making it excellent for children. The Eleanor Shipley Memorial Park is close by with picnic tables and BBQs.
'Moffats' on the southern point is popular with surfers in the right conditions (spot the surfers in the photo below).
Moffat Brewing Co
This craft brewery serves breakfast, lunch, dinner, and a range of beers, only 50 m from the beach. Unfortunately, they don't accept bookings, walk-ins only.
We didn't have time to visit Moffat Brewing Co. so if you've been, please let me know in the comments.
Shop 2/12 Seaview Terrace, Moffat Beach
Caloundra Golf Club
Visitors are welcome at Caloundra Golf Club, a premier 18-hole golf course. Tee times are available throughout the week on their website.
1 Charles Woodward Drive
Dicky Beach
Dicky Beach is 2 km north of Caloundra town centre and separated from Curmmundi Beach by rocks at the northern end of the 800 m beach.
The beach is named after the iron steamship SS Dicky, which was washed up after the 1893 cyclone. Failed attempts were made to relaunch it, and it was used for local dances until someone knocked over a kerosene lamp, catching it on fire.
You can swim at Dicky Beach – the safest place is in the middle where lifeguards patrol. It is a moderately safe beach under normal wave conditions as long as you are away from the rips at either end. However, high waves produce more rips along the beach and there can be strong currents and dumping waves.
The waves are usually lower than other beaches in the area, making this beach good for beginner surfers.
Fishing is popular off the rocks at each end, on the beach, and in the small creek.
A skatepark and playground keep the kids entertained (this currently closed for upgrades).
Caloundra Music Festival 2022
This year's Caloundra Music Festival runs from the 30th of September to the 2nd of October.
The family-friendly festival will take place at the Kings Beach Amphitheatre and feature a diverse line-up of entertainment from some of the best Australian music.
Caloundra RSL
Caloundra RSL is one of the biggest clubs in Queensland and has a relaxed restaurant that is open for lunch and dinner to visitors daily, except on Christmas Day.
The club is extremely child-friendly with its own supervised kids' club and offers specials from Sunday to Thursday when kids under twelve eat free with every main meal purchased over A$20.
19 West Terrace
Visit Currimundi Lake
Located between Caloundra and Maroochydore, this tranquil lake runs into the ocean at Currimundi Beach. Families particularly like the location as they can let kids play in the calm water while the trees provide plenty of shade. However, care should be taken if swimming as signs advise not to swim as the lake is unpatrolled with strong currents.
Cliff Hargreaves Park by the foreshore has picnic facilities, BBQ pits, and toilets.
The lake is perfect for watersports, including stand-up paddle boarding, kayaking, and canoeing.
Fishing is good for kayakers and land-based anglers, especially in the early morning or late afternoon/evening.
The walking trails around the lake are well sign-posted and explain flora and fauna of the area.
A few years ago, there were reports of bull sharks in Lake Currimundi, but I haven't heard of anything recently. As always, be shark aware.
See the map below if you have your furry friend with you – some parts of Lake Currimundi allow dogs off leash.
Caloundra Accommodation & Hotels
To view prices on Booking.com, click on the blue links. For Agoda, click on the photo.
There are some great accommodation options in Caloundra, including resorts, aparthotels, and budget accommodation.
Budget
17 North Street Budget Accommodation is a motel offering rooms with shared bathroom facilities, barbecues, a garden, free WIFI, a shared kitchen and lounge.
17 North Street, Golden Beach
Resorts
Oaks Sunshine Coast Oasis Resort is a great choice for families as it features a water park, a resort-style pool, a putt-putt golf course, sandpit, climbing frame and jumping pillow, all within 200 m of the beach.
Rooms vary from studios to three-bedroom villas.
2 Landsborough Parade, Caloundra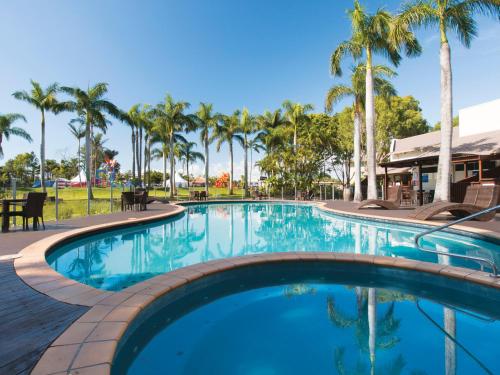 Ocean Views Resort Caloundra has the best of both worlds, on the main street of Caloundra and only a 5-minute walk to Bulcock Beach.
Book your stay at Ocean Views Resort Caloundra and enjoy modern rooms and apartments with a balcony. Have an amazing time in this luxurious resort with all the amenities you need to relax and unwind.
Centaur St & Bulcock St, Caloundra
Ramada Resort by Wyndham Golden Beach is ideal for families with children, as it features a heated lagoon-style swimming pool and a games room. This resort offers free Wi-Fi throughout the hotel.
Stay at this resort to enjoy the beach, tennis courts, and fitness centre.
75 Esplanade, Bulcock Beach
Rumba Beach Resort is a great place for couples, families, and groups of friends. You will love your stay in these apartments as they are fully equipped with all the amenities you need to enjoy your trip.
This resort is a 2-minute walk to the beach, overlooking the Pumicestone Passage with the stunning Glass House Mountains in the background.
10 Leeding Terrace, Caloundra
Apart-Hotels
Watermark Resort Caloundra offers waterfront accommodation with self-contained apartments and private motel-style rooms. The apartments have a balcony with water views, a fully equipped kitchen and laundry facilities. The motel rooms include tea/coffee making facilities and garden views.
Located in the city centre, Watermark Caloundra is 10-minute walk to Bulcock Beach.
38 Maloja Ave, Caloundra
Luxury
The Terrace at Caloundra, an architecturally designed residence, offers a luxurious escape to the Sunshine Coast. This stunning 5-level property can sleep up to eight guests in three generous sized bedrooms and the master bedroom. There are three bathrooms, including the luxury ensuite fitted with a stand alone bath and double shower.
3/4 Cooma Terrace, Caloundra
Caloundra Caravan Park
Big 4 Caloundra Holiday Park is situated on the water's edge of Pumicestone Passage with accommodation ranging from luxury cabins to sites.
Caloundra Eat & Drink
Some of the best places to check out for food or drink are:
Moffat Brewing Co
Drift Bar $$
Tides Waterfront Dining $$$
Three Restaurant & Bar $$
Amici Italian & Pizzeria $$
Hello Harry the Burger Joint $$
Caloundra Weather
The average maximum temperature in Caloundra ranges from 19°C in July (winter) to 27°C in January (summer).
The coldest time of year in Caloundra is winter (June to August) with average minimum temperatures of around 11°C and the warmest is summer (December to February) at about 21°C.
The wettest month is March, while September is the driest.
For more information, see the Bureau of Meteorology.
How to get from Brisbane to Caloundra
Road
The best and easiest way to get around the Sunshine Coast is by car or campervan. The roads are easy to navigate and routes are well sign posted.
You can drive from Brisbane to Caloundra in just under two hours via the M1 (tolls apply).
Public Transport
It is feasible to get to Caloundra from Brisbane by public transport. However, it will take between two and three hours, depending on the route and time of day.
Use translink.com.au to plan your journey.
Transfers
Coast to Hinterland Tours offer a transfer service from Brisbane Airport to the Sunshine Coast using a pre-booked fixed price. The door-to-door meet and greet service with drop-off at your chosen destination includes luggage, airport parking, and tolls in the all-inclusive affordable transfer prices.
Where to Next?
If you're heading up the Sunshine Coast, these guides will help you plan your itinerary:
Heading down to Brisbane? Consider a detour to Bribie Island:
Travel Tips and Information
To help plan your holiday, use this Queensland Travel Guide which includes helpful information and tips.
Feature image is Kings Beach courtesy of Tourism and Events Queensland.
FAQ
Can you swim at Golden Beach Caloundra?
Golden Beach is protected by the Pumicestone Passage, making it calm and ideal for swimming.