The Best Things to do in Bowen 2022
Bowen is in the Whitsunday region, an hour north of Airlie Beach, Queensland. It is famous for its Bowen Mangoes and the filming location for a third of the movie Australia, starring Nicole Kidman and Hugh Jackman.
Our family visited this town as part of our Queensland road trip. This travel guide provides you with things to do in Bowen along with useful tips to plan your holiday, including weather, accommodation, and how to get there.
Disclosure: This post may contain affiliate links (of which we use) so we may receive a small amount of commission if you buy something through them, at no extra cost to you. You can read the full disclaimer here.
Where is Bowen?
Bowen is halfway between Mackay and Townsville, on the north-east coast of Queensland, Australia.
How to get to Bowen
International visitors will need to fly via Brisbane or Sydney. From there, take a domestic flight to Mackay, Proserpine (near Airlie Beach), or Townsville. Find details about visas, prohibited items, currency, and safety on our Australia page.
If you enjoy rail journeys, the Spirit of Queensland runs from Brisbane to Bowen. The Greyhound Australia bus stops in Bowen too.
Alternatively, you could make Bowen part of a Brisbane to Cairns road trip.

Car Hire – There are a few car hire companies available at the airport – we use Discover Cars to compare prices and find the best deals.
TIP: The earlier car hire is booked, the more options there are, and the lowest prices. Click on the above car rental links to get great deals.
Things To Do in Bowen Qld
The Big Mango
The Big Mango was our first stop in Bowen. This giant 10-metre high mango cost $90,000 to create a tourist attraction in 2002.
The 7-tonne mango was stolen in 2014 but found the next day. It turned out to be a publicity stunt by Nandos.
It's a good stop for a photo, but the best part is the mango sorbet sold inside the Tourist Information Centre.
As mentioned above, Bowen produces the Kensington Pride (or Bowen Mango) mango, which originated from India. This variety accounts for over 80% of Australia's yearly commercial supply.
Flagstaff Hill
Flagstaff Hill is a must when visiting Bowen for 360-degree views over the area. Look out to Gloucester Island, Cape Edgecumbe, Queens Bay, and Abbot Point.
It's an easy walk from the car park, so no climbing is required.
If you are there around June to September, you may be lucky enough to see whales breaching just off the coast.
North Head Island and its historic lighthouse are viewable from here.
Binoculars are available to use for A$2 or bring your own.
We visited during the day, but it would be a great place at sunset.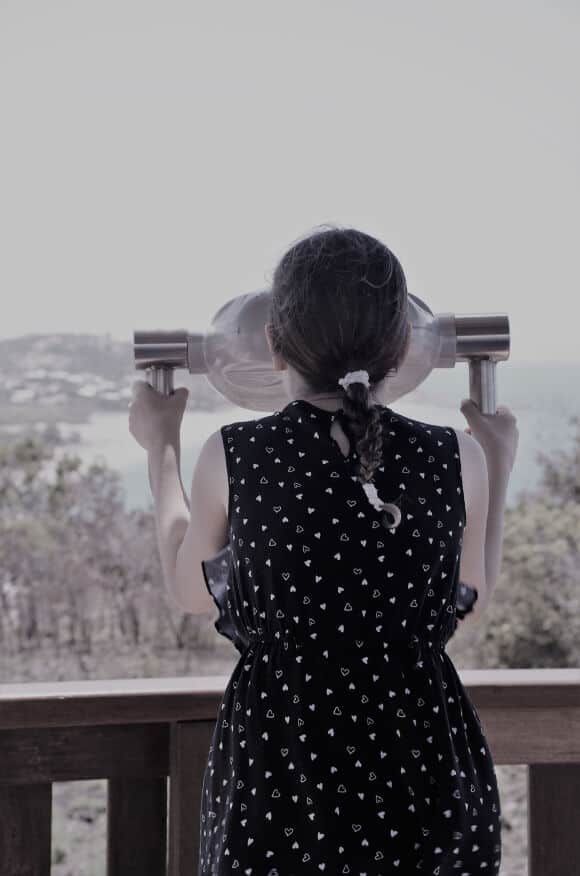 Horseshoe Bay & Horseshoe Bay Lookout
We fell in love with the beautiful Horseshoe Bay. The sheltered sandy bay is so picturesque (as can be seen from the lookout). The calm crystal clear water and granite outcrops add to the beauty of this beach.
Horseshoe Bay is the most popular of all Bowen's twelve beaches and includes a kiosk, an amenities block, and a shady picnic area. We found a lovely spot under a tree for our lunch.
The water is lovely and warm, making it perfect for snorkeling on the bay's fringing reef. If you don't have snorkeling equipment, it can be hired from the Horseshoe Bay Resort.
It's quite a safe beach as surf, currents, and rips are rare. Horseshoe Bay Beach is patrolled by the Queensland Surf Life Savers during the school holidays and on weekends in stinger season (between November and May.).
Unfortunately, the car park is relatively small, and it can be hard to get parked at peak times.
Bowen Beaches & Fishing
We only stopped in Bowen on our way from Airlie Beach to Townsville. Therefore, we didn't have time to check out any other beaches.
If you are here for longer and looking for what to do in Bowen, some other beaches are:
Kings Beach (great views of Gloucester Island)
Queens Beach
Murrays Bay
Grays Bay
Rose Bay
Front Beach
Coral Bay (clothing optional)
The sea temperature ranges from a warm 29°C in summer to a mild 22°C in winter. We noticed how warm it was even compared to Airlie Beach.
Good places to fish are from the Bowen Jetty, at the rocky southern end of Kings Beach, and the rocky outcrops at Horseshoe, Grays, and Rose Bays.
Check the Bowen tide times before fishing.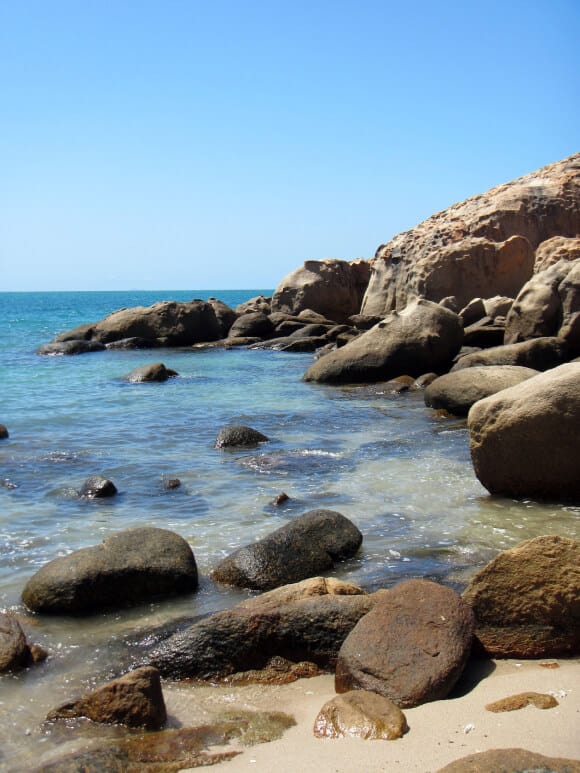 Visit Bird's Fish Bar
If you want some fresh, tasty seafood, then head to Bird's Fish Bar. It is part of the family-owned Bowen Fishermans Seafood and offers local fresh seafood unloaded from their boats daily.
The outdoor undercover seating area overlooks the beautiful Bowen Marina.
BYO a beer or wine, sit back and enjoy the delicious food and view.
Bowen Accommodation
Camping
While there isn't any free camping in Bowen, there's a choice of Bowen Holiday Park, Big 4 Bowen Coral Coast, Bowen Palms Caravan Park, Harbour Lights Caravan Park, Rose Bay Caravan Park, Tropical Beach Caravan Park, and Wangaratta Caravan Park.
Motels
Out of all the motels in Bowen, I would choose to stay at Rose Bay Resort, Port Denison Motor Inn, or Bluewater Harbour Motel.
Family Accommodation
Coral Cove Apartments, Golden Sands Beach House, and Whitsunday Sands Resort are lovely choices for family-friendly Bowen accommodation.
Bowen 7 Day Forecast & Weather
Bowen has a tropical climate meaning the summers are generally hot and wet. Winter days are warm and sunny, although night temperatures can drop.
The wettest months are January and February, with September being the driest.
The daytime maximum temperatures are around 31 degrees during the summer (wet season) and 24-25 degrees during the winter (dry season).
Bowen's cyclone season is from November through to April.
See the detailed 7-day forecast at the Bureau of Meteorology.
Brief History of Bowen
I would like to respectfully acknowledge the Australian Aboriginal People, the Traditional Owners, and First People of these lands. I would like to pay my respects to the Elders past, present, and future, for they hold the memories, the traditions, the culture, and hopes of the Aboriginal People.
Captain Henry Daniel Sinclair discovered Port Denison in 1859 when a reward was offered to find a port north of Rockhampton.

Two years later, Sinclair led an expedition by sea, while George Elphinstone Dalrymple led another group by land from Rockhampton to Port Denison.

In 1865, the town was renamed after the Queensland colonial governor, Sir George Bowen, when Queensland had separated from New South Wales.

The primary industries in Bowen are agriculture, fishing, tourism, and coal mining.
For more things to do in Queensland, check out this Queensland Travel Guide.
FAQ
What is the population of Bowen?
The population of Bowen (State Suburbs) was 10,377 people, according to the 2016 Australian Census.
Are there crocodiles in Bowen?
Yes, Bowen is part of croc country, so crocodiles are present. The Queensland Government has an information sheet on being Crocwise.
Are there stingers in Bowen?
Yes, there are stingers in Bowen. Marine stingers can be present year-round but are more common from November to May. During this time, it is advised to wear stinger suits when entering the ocean.
Stinger nets protect from the deadly Box Jellyfish, but not the venomous Irukandji jellyfish. 
How far is Airlie Beach from Bowen?
Airlie Beach is 78.5 km from Bowen, along Bruce Highway/A1. It will take approximately one hour by car.
If you found our What to do in Bowen guide helpful, please consider booking through our links. It won't cost you anything but will help towards the cost of running this site. Thank you.