11 Things To Do in Airlie Beach in 2024
Our family visited Airlie Beach as part of a road trip from Airlie Beach to Cairns. Airlie Beach has a cool, laid back vibe to it and is popular with families and the budget conscious, like backpackers.
I think Airlie Beach is the best place to base yourselves when travelling to the Whitsundays with children. It is much cheaper to stay there than on the islands, and there are more kids activities to keep them occupied.
Disclosure: This post may contain affiliate links (of which we use) so we may receive a small amount of commission if you buy something through them, at no extra cost to you. You can read the full disclaimer here.
Don't Have Time to Read the whole Article?
Book Our Favourite Whitsunday Tour by Ocean Rafting
 Ocean Rafting won gold in the 'Major Tour & Transport' & 'Adventure Tourism' categories and Whitsundays' favourite tourism experiences in the consumer-voted 'People's Choice Award Experience'.
My Top 3 Picks: What to do in Airlie Beach & Whitsundays
⭐️⭐️⭐️⭐️⭐️
✅ Adventure ride to Whitehaven Beach & Hill Inlet
✅ 2 pristine snorkelling reef sites
✅ Guided Whitsunday Island National Park walks
Airlie Adventure Jetski Tour
✅ Multi award winning Whitsunday Jetski Tour
✅ Only guided jetski tour operating from Coral Sea Marina to the Whitsunday Islands
✅ Ride the latest Sea-Doo jetskis
1. Day Trip to Hamilton Island or Daydream Island
It's easy to take a day trip to the Whitsunday Islands from Airlie Beach. Hamilton Island was our choice as it appealed to us over Daydream Island. Despite it being busy, it wasn't as touristy as Daydream which centres around the resort.
Hamilton Island has lots of activities and is perfect for families, couples, and solo travellers.
You can read all about our day trip from Airlie Beach to Hamilton Island here.
We used the Whitsunday Islands Hopper Pass to get around.
2. Airlie Beach Lagoon
The best family-friendly free thing to do in Airlie Beach is visiting the Airlie Beach Lagoon. Like the pool in Mackay, it is completely free to enter.
The 4300 sqm lagoon is right in the centre of Airlie Beach, making it an ideal place to meet up with friends and family. It features a toddler pool, a lagoon, and a sandy beach for the kids to play on.
Airlie Beach Lagoon has a 1.5 m maximum depth children's pool and a larger pool with a maximum depth of 2 m. It is a gradual descent but care must be taken if you can't swim.
There's plenty of shade on the landscaped grass under the trees to relax or enjoy a read (if your kids are old enough to be left unsupervised). The views of the Coral Sea are lovely from here too.
We spent a couple of hours here, but you could spend longer if you had more time. The supermarket is close by to purchase supplies for a barbecue or picnic.
Airlie Beach Lagoon cost
Airlie Beach Lagoon is completely free!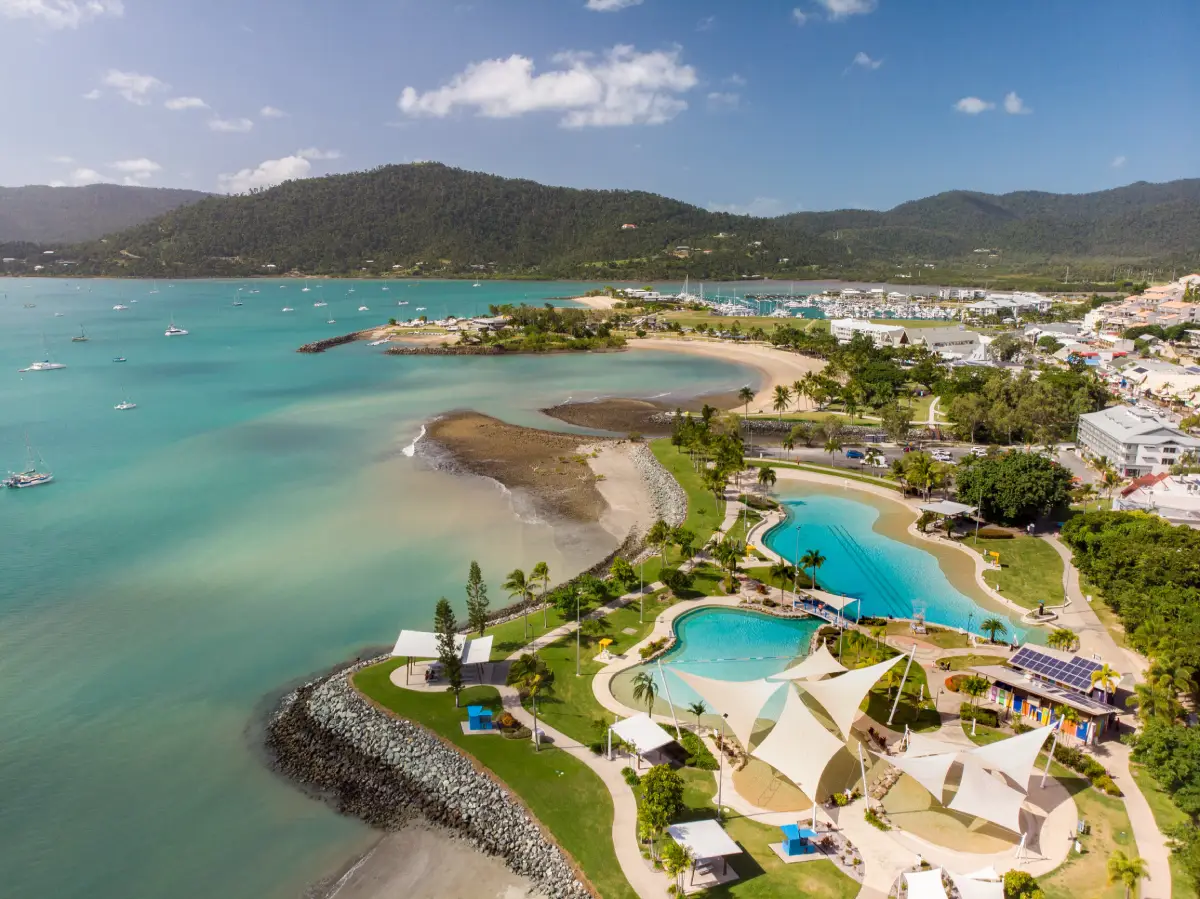 Is Airlie Beach Lagoon safe to swim?
Airlie Beach Lagoon provides a safe swimming environment, especially during stinger season. Lifeguards patrol the lagoon from 6:00 am to 6:30 pm daily.
Airlie Beach Lagoon facilities
The facilities at Airlie Beach Lagoon are excellent, with barbecues, picnic areas, changing rooms, outdoor showers, and toilets.
Is Airlie Beach Lagoon saltwater?
Airlie Beach lagoon is a chlorinated fresh water pool.
3. Visit Whitehaven Beach
Whitehaven Beach was number 22 in TripAdvisor's Peoples' choice for the best beach in the world. I think it is special because it is untouched with no hotels, restaurants, shops, or kiosks. Every year over 75,000 people visit Whitsunday Island to see this beautiful beach and views from Hill Inlet.
The white 7km sand beach is spectacular and so soft that it squeaks when walked upon. The ocean is a beautiful turquoise colour with gentle waves lapping the shore.
We took the half day Whitehaven Beach tour with Cruise Whitsundays as we didn't know if our girls would last a whole day. In hindsight, I wish we chose the full day tour, as we didn't get to see Hill Inlet. The half day tour drops you off at the southern part of Whitehaven Beach and allows you to explore for a couple of hours. There's no shade, so take an umbrella to protect you from the intense sun. We walked along the beach and relaxed while our daughters played, then had a paddle in the crystal clear ocean.
To access Hill Inlet, you need to go to Tongue Bay on North Whitehaven, and from there, it's a 20-minute walk to the lookout. Hill Inlet is the most photographed location in the Whitsundays, and I'm sure you've seen photos of the stunning swirling sandy waters. On this Full-Day Snorkeling Cruise by High-Speed Catamaran, enjoy a fun-filled day of swimming and snorkeling as you cruise around the islands and discover the colorful underwater world of the UNESCO-listed Great Barrier Reef. Admire dramatic coastal views on a hike to Hill Inlet Lookout, then indulge in a delicious buffet lunch on-board (included).
For the more adventurous, the Ocean Rafting Tour is rated as the number one tour on TripAdvisor. Take a thrilling ride aboard this raft with the choice of two tours (North Whitehaven or South Whitehaven). Both include Whitehaven Beach and Hill Inlet, plus snorkelling. Read more about this fun tour here.
4. Take a scenic flight over the Heart Reef
What could be better than flying over this incredible heart-shaped reef? The birds-eye view from the small plane is spectacular as you soar above the Great Barrier Reef and the Whitsunday Islands' white sandy beaches.

On this 60-minute Whitsundays Reef and Island Scenic Flight from Airlie Beach, you will see Shute Harbour, Molle Islands, Long Island, Dent Island, Hamilton Island, Daydream Island, and more.

5. Bicentennial Walkway
This 7km walk trail runs from Airlie Beach Lagoon to Cannonvale Beach. It mainly consists of a boardwalk and is flat, making it ideal for prams and bikes.
The boardwalk runs alongside the stunning coast with views out to the Coral Sea and Whitsunday Islands. There's always something to see, whether it's luxury yachts or marine life (look for turtles near the Volunteer Marine Rescue).
The walk is family-friendly, with playgrounds along the way to break it up and one at the end at Cannonvale Beach.
Coral Sea Marina (previously Abell Point Marina) is around the half-way mark, making it the perfect place to stop for a drink at one of the many cafes, bars, or restaurants.
The Fat Frog Café at Cannonvale Beach is a locals favourite serving delicious food and great coffee.
It can be hot during the day, so the best time to walk this trail is early morning or late afternoon. It's a spectacular place to watch the sunset.
6. Conway National Park
Conway National Park covers about 75 km of coastline, including the Cape Conway peninsula. The Conway Range protects the largest area of lowland tropical rainforest in Queensland outside of Tropical North Queensland.
You'll find a mixture of mangroves, forests, paperbark and pandanus woodlands, and lowland rainforest with twisted vines.
Thousands of years ago, the area was home to the Ngaro and Gia people and is of significant importance to the people of the Birri-Gubba Nation. So, please respect the land, tread lightly, and take all rubbish with you.
Conway National Park things to do
Hike one of the many trails
Mountain biking
Picnic at the Conway National Park day-use area
Fish from the beach at Swamp Bay and Coral Beach
View wildlife
Kayak around the coastal bays (although be aware of the dangers)
Conway National Park walks
Conway National Park has a range of walks from easy short trails to challenging hikes. Find more information on the walks at Queensland's Park and Forests.
Conway National Park waterfall
If you visit Airlie Beach during the wet season, a visit to Cedar Creek Falls in the Conway National Park is a must.

Cedar Creek Falls is a half hour drive from Airlie Beach, so transport is required for this one. If you don't have a vehicle, compare prices to hire one with Discover Cars.

The beautiful waterfall cascades over the natural rock amphitheatre into the pool below. The clear water of the rock pool makes for a refreshing swim. You might even see some fish or turtles swim by. Kids will love it here; don't allow them to jump from the falls, though.

If you don't want to swim, relax by the lovely white cedar trees and look for the many birds and butterflies that inhabit here. There are bush-walking tracks for the more energetic.

The falls are an easy walk from the car park. There are toilets here, but that's it, so bring your food (remember to take all the rubbish home with you).

Bring a beach towel (like these at The Iconic), bathers, hat, walking shoes (I love my Asics like these), water, sunscreen, and insect repellent.

Arrive early before it gets busy.
Conway National Park map
You can see a copy of the Conway National Park map here.
Conway National Park crocodiles
Please be aware that there are estuarine crocodiles (saltwater) in the waters around the parks. Be crocwise and adhere to the warnings and advice.
Read this guide on staying safe in Conway National Park.
Conway National Park facilities
At the day use area you will find toilets, a shelter shed, picnic tables, and electric barbecues.
Swamp Bay has picnic tables only.
7. Beaches
Cannonvale Beach has a stinger net in summer, a café on the foreshore, bbqs, toilets, and a playground making it popular with families.
The beach is particularly beautiful at sunset with wreck of the Whitsunday Magic being a photographers favourite.
Boathaven Beach is a "new" beach near the Port of Airlie. This man-made beach has 60,000 cubic metres of imported soft, white sand with a stinger net. Toilets are located across the road.
Dingo Beach is a 40-minute drive from Airlie Beach but worth it for this quiet, stunning beach. During stinger season, a net keeps you safe. This beach is excellent for snorkeling; you may even see a turtle or spot a dolphin or migrating whale.
Facilities include BBQs, showers, toilets, a playground, café, shop, and pub. There's also a boat ramp to launch your dinghy quickly.
Combine a day trip to Dingo Beach with the long, white sandy beach of Hydeaway Bay. This 1.5 km sandy beach has views across the water to islands, including Gloucester Island and Saddleback Island.
Hydeaway Bay Caravan Park has a small on-site store, and there are two beachside restaurants/ eco resorts at Cape Gloucester, just at the northern end of Hydeaway Bay.
8. Airlie Beach Hikes
We did two hikes during our stay in Airlie Beach. The first one was the Airlie Creek Track, a 1.7 km return walk. It starts as an easy Grade 1 but ends up at a difficult Grade 4. The last part is steep with rocks to traverse, but the beautiful forest with fig trees and the Whitsunday Bottle Tree makes it worthwhile. Allow an hour to complete this walk.
The Conway Circuit (which used to be called the Whitsunday Great Walk) is a massive 27 km trail through the Conway State Forest. The walk is meant to be done over three days, camping along the route, but can be done in a whole day. The track starts at Brandy Creek (Forestry Road Car Park) and finishes in Airlie Beach. Transfers will be required as it is not a return loop. The trail is suitable to ride, walk, or run. It takes you through the lush tropical rainforest with views out to the Whitsunday Islands.
The Conway Circuit has shorter trails, including Honeyeater Lookout trail. This is the one we did; well, let me clarify, Dave did. The girls and I only walked part of the track, but Dave ran the 8.2 km return trail. The walk starts at Kara Crescent and leads you uphill to the lookout. Here you are rewarded with the best views in Airlie Beach over Cannonvale, the Dryander Range, and out to the Whitsunday Islands. Allow three hours to complete this walk and take plenty of water with you.
9. Airlie Beach Foreshore Playground
The Airlie Beach Foreshore Playground is a new addition since we last visited, and it looks fantastic. The new playground has a 10.5m high skywalk, a climbing net, three giant slides, a rope bridge, and a Pirate Ship playground for the younger kids.
10. Airlie Beach Markets
The Lions Airlie Beach Community Markets, held every Saturday morning on the foreshore, features stalls selling local and fresh produce, art, craft, souvenirs, and delicious food.
11. Coral Sea Marina
Take a walk around Coral Sea Marina and be dazzled by the superyachts that berth here. This marina received a multi-million dollar redevelopment and has been designed with superyachts in mind with premium berthing available for vessels up to 80m.
There's plenty of restaurants, bars, and cafes here if you want to stay longer (it's beautiful at sunset).
Viator's Most Popular Airlie Beach Tours & Activities
Book Direct with Tour Operators