Gorgeous Buderim Waterfall – Awaken your Inner Photographer
Buderim waterfall is an incredible sight that shouldn't be missed while visiting the Sunshine Coast. This waterfall is in the sub-tropical Buderim Forest Park and is a great spot for photography or simply taking in the beauty.
As you wander through the forest and see the waterfall, you will soon realise why it is one of the most Instagrammed places on the Sunshine Coast.
The name is derived from the local Kabi Kabi word "Baddaram", which means "place of the Hairpin Honeysuckle Banksia".
Buderim is the oldest established European settlement on the Sunshine Coast, founded in the 1860s.
Disclosure: This post may contain affiliate links (of which we use) so we may receive a small amount of commission if you buy something through them, at no extra cost to you. You can read the full disclaimer here.
Location of Buderim Waterfall
Buderim Waterfall is in Buderim Forest Park, just fifteen minutes inland from Mooloolaba on the Sunshine Coast.
How to get to Buderim Waterfall & Where to Park
There are two choices of where to park to access Buderim Falls – the Quorn Close car park or Harry's Lane.
Quorn Close takes you to the falls through the rainforest – about 350m downhill. This is the largest car park with a garden in memory of resident Edna Wallings, famous for creating gardens around the world. There are picnic tables and barbeque facilities here if you want to have something to eat after your hike.
Harry's Lane is a longer trail, but less steep with a beautiful boardwalk part of the way – this is the option we chose.
Best Time to Visit
The waterfall flows all year, but it is better after rainfall.
It can be jam-packed on weekends and public holidays. We visited during the week and were lucky to have only a few people with us at the falls.
What to Expect at Buderim Waterfall
Quorn Close Trail
Once you're past the picnic area, a 350m steep bush trail takes you down to Buderim Falls. It will take about 15 minutes if you have moderate fitness. However, the path isn't suited for people with mobility problems or strollers etc., due to the trail and number of stairs.
The trail leads to Serenity Bridge, a cute wooden bridge overlooking the falls. Steps on the other side of the bridge lead down to the waterfall.
Harrys Lane Trail
Once parked, you will pass Harry's on Buderim Café, open for lunch Wednesday to Sunday from 12 pm to 2 pm and dinner Thursday to Saturday from 6.00 pm.
The first 600m of this trail is along a cute wooden boardwalk, suitable for wheelchairs and strollers, through the sub-tropical rainforest. We were lucky to have this part to ourselves, so it was relaxing listening to the birds, wildlife, and the running water of Martin Creek whilst taking in the beauty of the forest.
It was raining slightly while we were on the boardwalk, and it was amazing how different the forest feels as water droplets fall from the leaves and you feel a coolness in the air. Walking along gave me a sense of peace and tranquillity, feeling like we were in a world of our own.
The boardwalk ends about halfway along the 1300 m trail, where it becomes a rocky path. Although the path is unsuitable for wheelchairs or strollers, it's easy to navigate and takes you along the creek, past several cascades.
At the end of the walk, you are rewarded with the stunning 10 m high Buderim Falls.
Here there's a path that takes you behind the waterfall for a different perspective, or you can sit on the large rocks to enjoy the serenity.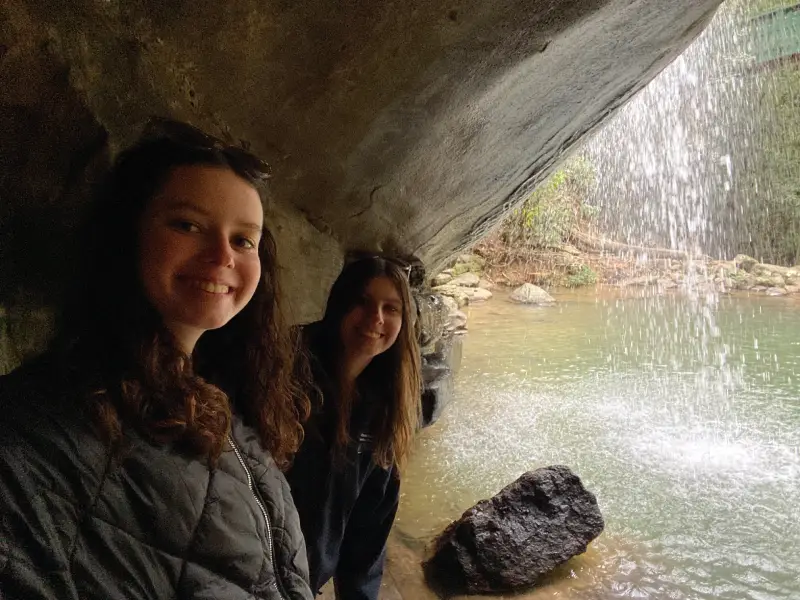 Despite people swimming in the rock pools, the local council advises against it. The creek passes through urban areas so it may have stormwater in it.
Buderim Forest Facilities
Facilities at both Buderim Forest car parks include:
Toilets
Barbecues
Picnic Tables
Other Things To Do in Buderim
Foote Sanctuary
Another scenic place to visit in Buderim is the Foote Sanctuary, providing 9 hectares of local fauna and flora. It is named after the local farming family that donated the land to the community as a memorial to their eldest son, Eric Joseph Foote, who was killed in the Battle of the Somme.
Various paths allow you to enjoy the flora, including rainforest, eucalyptus, tree-ferns, melaleucas, and eugenias.
Dogs are allowed if they are always kept on a lead.
The Foote Sanctuary has toilets, picnic shelters, and barbecues.
Pioneer Cottage
For an insight into the pioneer farming era, visit this original home, now a museum. Built by J.K. Burnett in 1880 using pit-sawn cedar and beech, the house is listed by the National Trust and on the National Heritage Register.
Rooms are furnished in original period décor with historic memorabilia displays.
Pioneer Cottage is open Monday to Saturday from 11 am to 3 pm.
Entry is A$5 per adult and A$1 per child.
Buderim Ginger
Buderim Ginger was formed over 80 years ago when supplies from China were cut during the Second World War, resulting in five local farmers forming the Buderim Ginger Grower's Co-operative Association Limited.
A factory was built in 1979, and the company was listed on the stock exchange ten years later.
Today Buderim Ginger products are enjoyed worldwide, including the UK, Germany, USA, Japan, New Zealand, and Singapore.
If this is something that interests you, the Ginger Factory offers tours and tastings with a 40 minute professionally guided tour through Australia's only working ginger factory.
See prices including free cancellation here
If you have kids, consider tickets that include unlimited Ginger train and boat rides at this ginger-themed entertainment park.
FAQ
Are dogs allowed at Buderim Waterfall?
As Buderim Waterfall is in a nature reserve, dogs are not allowed.
Are there any facilities at Buderim Waterfall?
There are no facilities at the actual Buderim Waterfall, but toilets, barbecues, and picnic areas can be found near the car parks.
Other Travel Guides to the Sunshine Coast
If you found this article helpful, please consider booking through one of our links. It won't cost you anything but will help towards the cost of running this site. Thank you.